Briggs&Strat 5hp Into Cateye
08-03-2010, 12:52 PM
Honda-Tech Member
Join Date: May 2009
Posts: 318
Likes: 0
Received 0 Likes on 0 Posts
Briggs&Strat 5hp Into Cateye
---
I've tried pocketbikeplanet.com, oldminibikes.com, and a few other sites, but it doesnt seem like anyone wants to help. And Since I usually get really good advice from h-t, I'd thought I would try here. Now I KNOW my bike is NOT a ruckus, and its really cheap, but Im trying to put something together out of scraps.
Okay, here are some pictures of my current process.
Here is the frame. I ripped out most of the electrical stuff. Not sure if that was a bad idea. Any input as to IF i WILL need the old exist harness?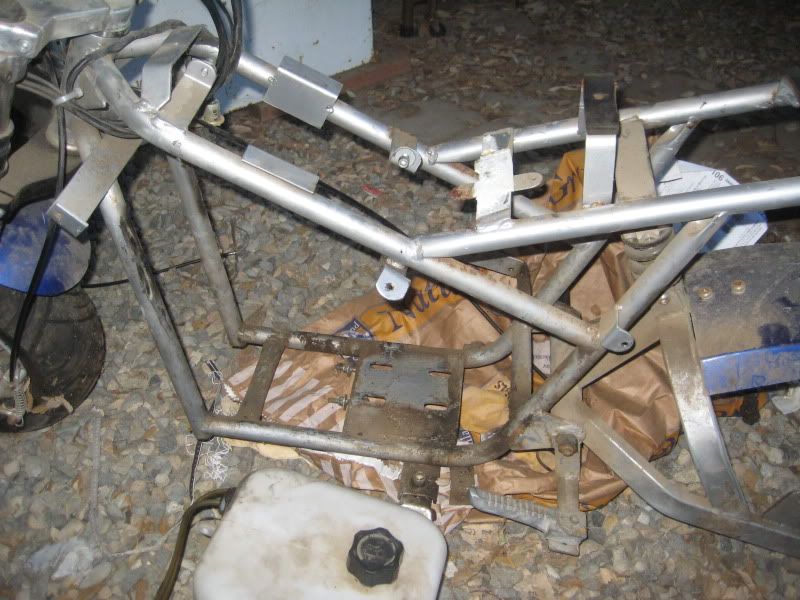 Here is the engine. Its REALLY dirty, but I will get it cleaned before it goes in. It fits into the frame really snugged, but its not too bad. I had to remove the intake to fit it in there, but I will be installing it back on once its in.
Now this the the tube that feeds the oil INTO the filter. And it looks like it mixes with the gasoline before it enters the carb. Is that how it works? Because I was thinking that I could just premix the gas+oil. What do you guys think?
Here is the cover of the mower i got the motor from.
Im putting together the bike as i do research.
I plan to flip the rear wheel and make a bracket on the right rear for the brakes.
I will also be flipping the stock jackshaft and mount the middle sprocket on the left side of the bike.
I have an idea of how a clutch works and i plan to use a max-torque clutch.
Can anyone tell me what size front and rear sprocket I will need to be in a good powerband?
I was thinking of using a 3/4" #35 chain 11t front sprocket, and a 62t rear sprocket
More updates to come! Ill get some pictures of the motor in the frame soon.
08-04-2010, 05:09 PM
Honda-Tech Member
Join Date: Oct 2006
Location: indianapolis, in
Posts: 231
Likes: 0
Received 0 Likes on 0 Posts
Re: Briggs&Strat 5hp Into Cateye
---
that motor wont work for your application, Also it isnt a 2 stroke it dosnet mix oil with the gas that tube is for crankcase ventilation
08-05-2010, 06:38 PM
Honda-Tech Member
Join Date: May 2009
Posts: 318
Likes: 0
Received 0 Likes on 0 Posts
Re: Briggs&Strat 5hp Into Cateye
---
08-10-2010, 03:05 PM
Re: Briggs&Strat 5hp Into Cateye
---
I don't think that's a 2-stroke. Assuming I'm right that motor will probably last about 1 minute on it's side like that. Horizontal 4-strokes are different than vertical 4-strokes.

Why are you turning away good advice? Because it's not what you want to hear?
Thread
Thread Starter
Forum
Replies
Last Post
Honda CRX / EF Civic (1988 - 1991)
Honda Civic / Del Sol (1992 - 2000)