DIY Cupholder and Coin Tray in Single Din Slots
09-02-2009, 10:27 PM
DIY Cupholder and Coin Tray in Single Din Slots
---
Thanks to Hatchie from civic-eg.com for letting me post up his DIY:
Okay, first off, go to your local junkyard and either go to a 92-95 Mercury Sable or go to a 92-95 Ford Taurus.
You're going to be looking for these: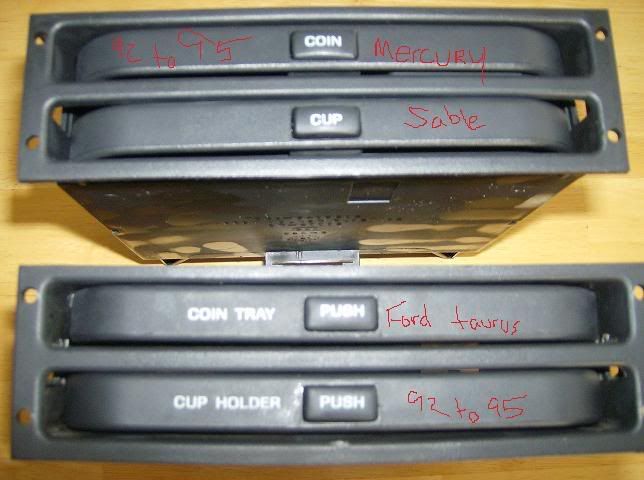 Now, after you pick which one you want to take out, there are two clips on both sides. Squeeze these one by one and pull while squeezing (there's a tool for this).
Here's the tool: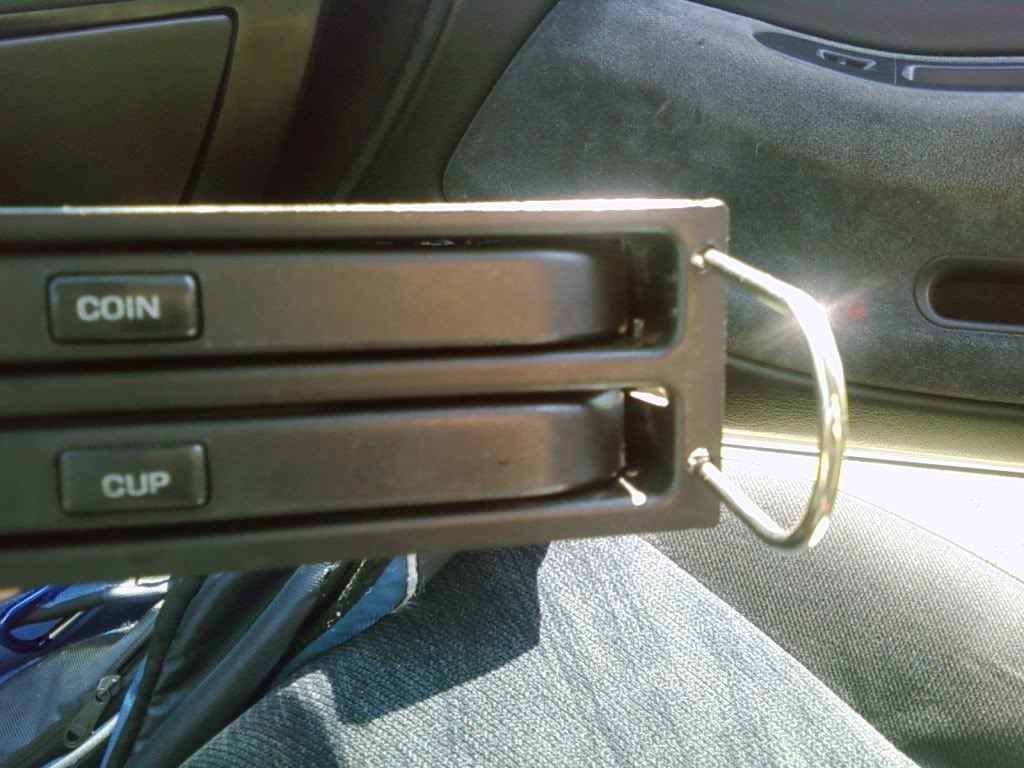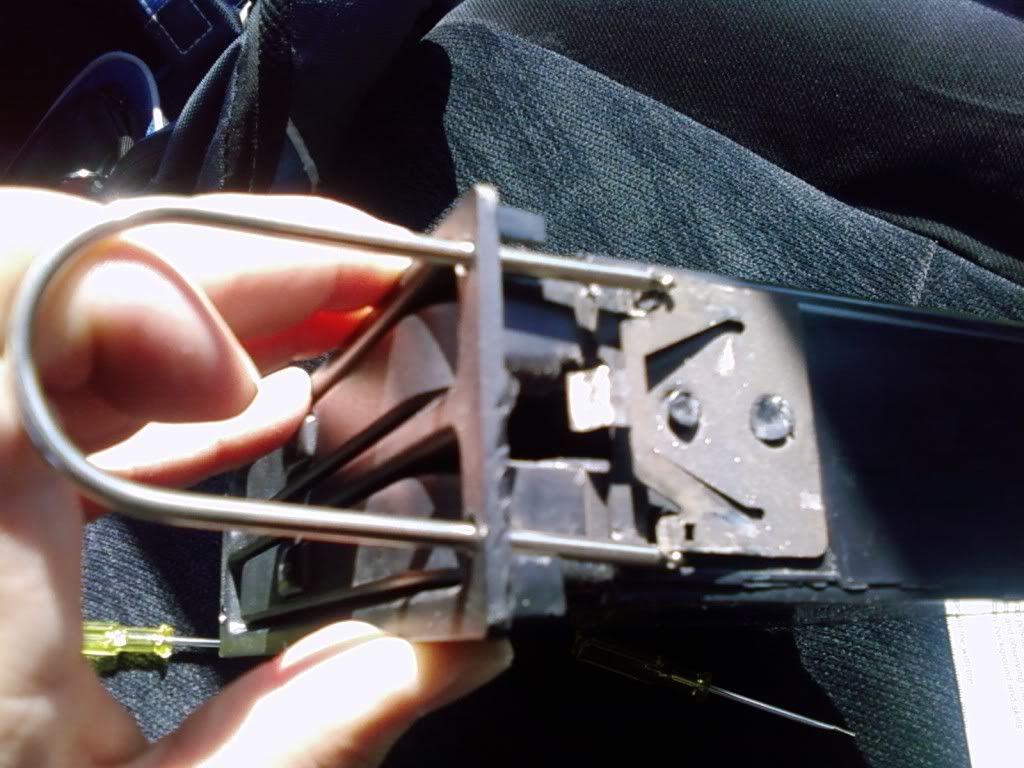 After you got it most of the way out you will find that it gets stuck. This being there is a slider clip underneath...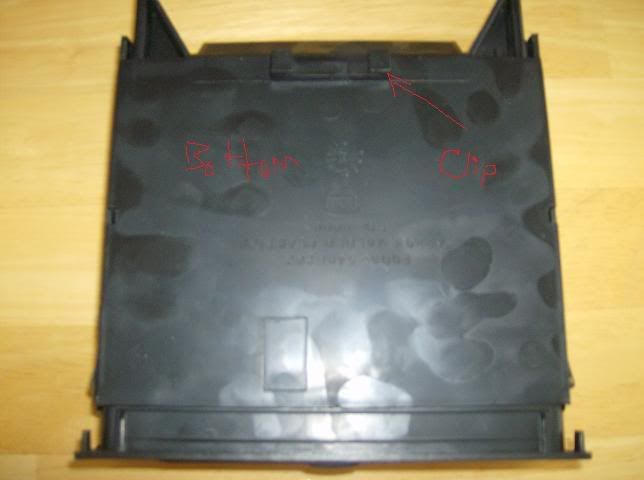 Press the buttons to open both trays and pull the trays fully out. Tilt the whole piece down and it will come right out.
Now to the How-to:
Look through the hole in the back when both the cup and coin are out as far as they can go. This is what you will see: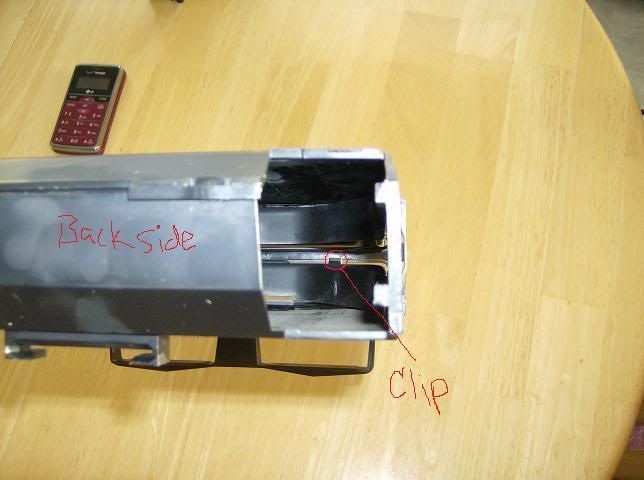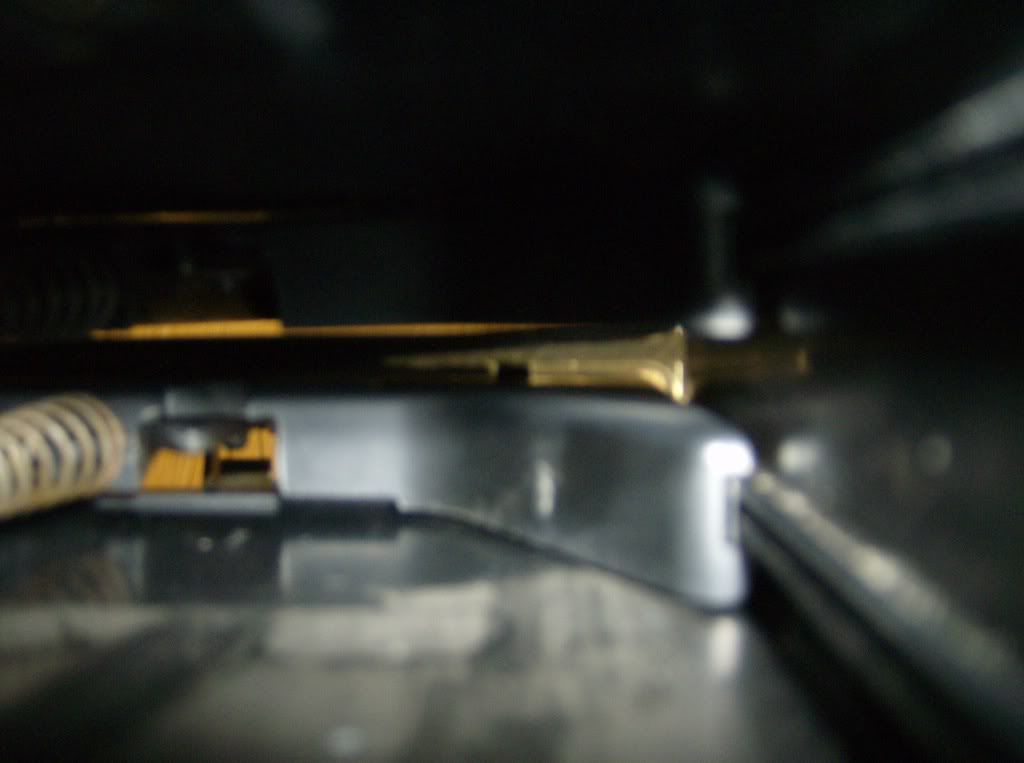 See the clip that holds it in?
Next, remove top one by wedging something between the coin holder and the plastic that surrounds it.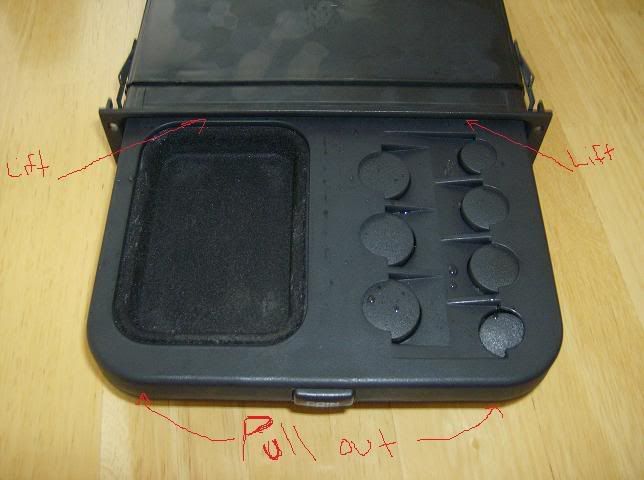 Do the same for the bottom when the top one is removed.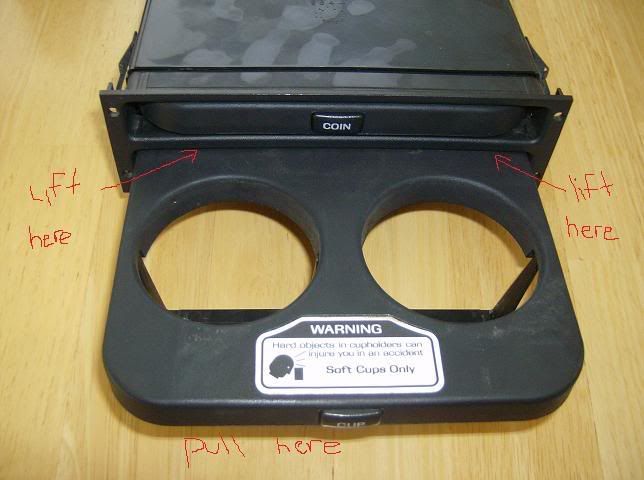 Now clean it.... let it dry.
Put it back together.... don't worry they just slide in.
Next, it's time to put it in the car!
When I put this in my wiring harness for the radio and other things were in the way.... and kept the whole thing from going in. So, I cut the piece like this to make it to where the whole thing just slides in.
First, cut the tabs off the bottom.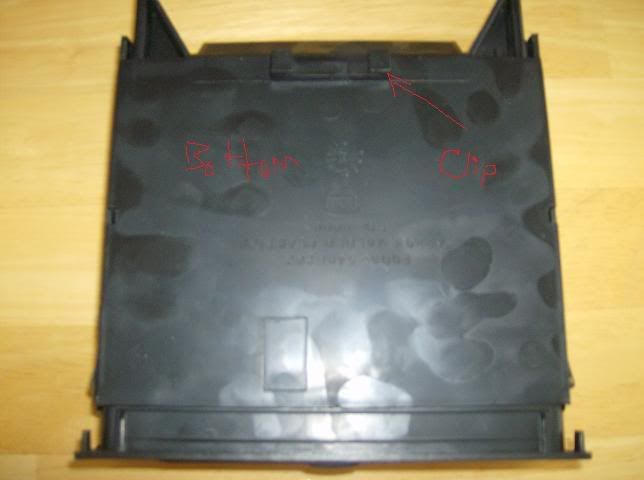 OPTIONAL
Then cut the side tabs off. (
OPTIONAL
if you have the removal tool KEEP THESE TABS, they help lock it in place later)
OPTIONAL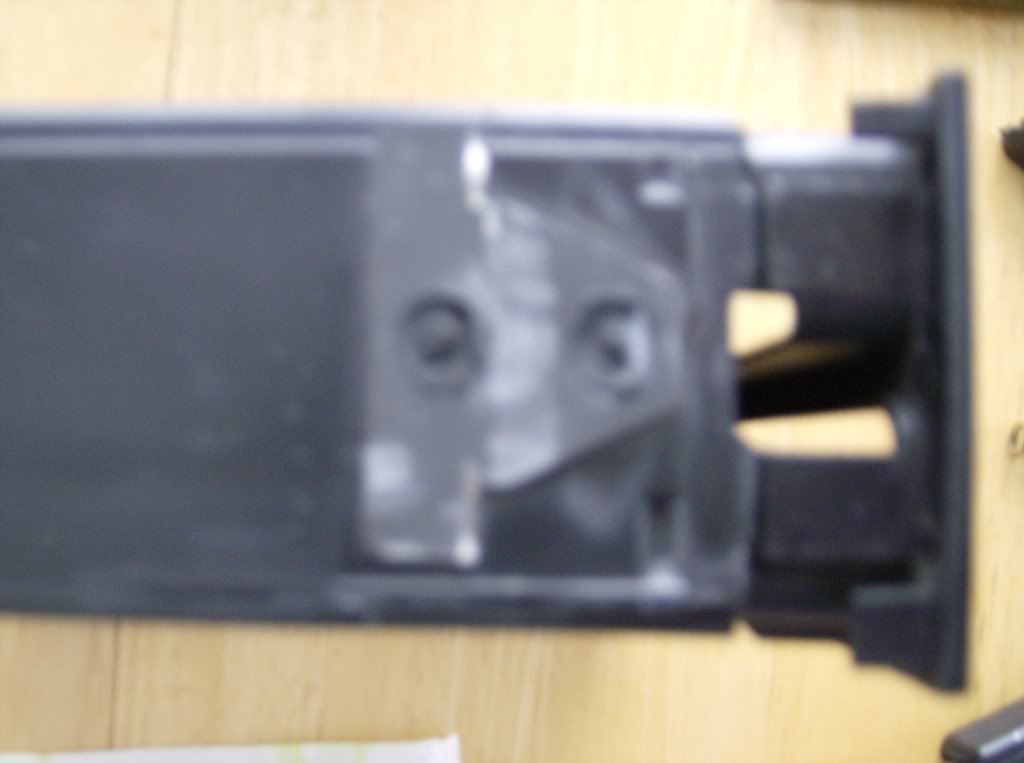 Then, cut the pieces that come out the back...
Cut a 1/2 inch off of each end.
Then, cut cup and coin on left hand side another inch back, leave the track.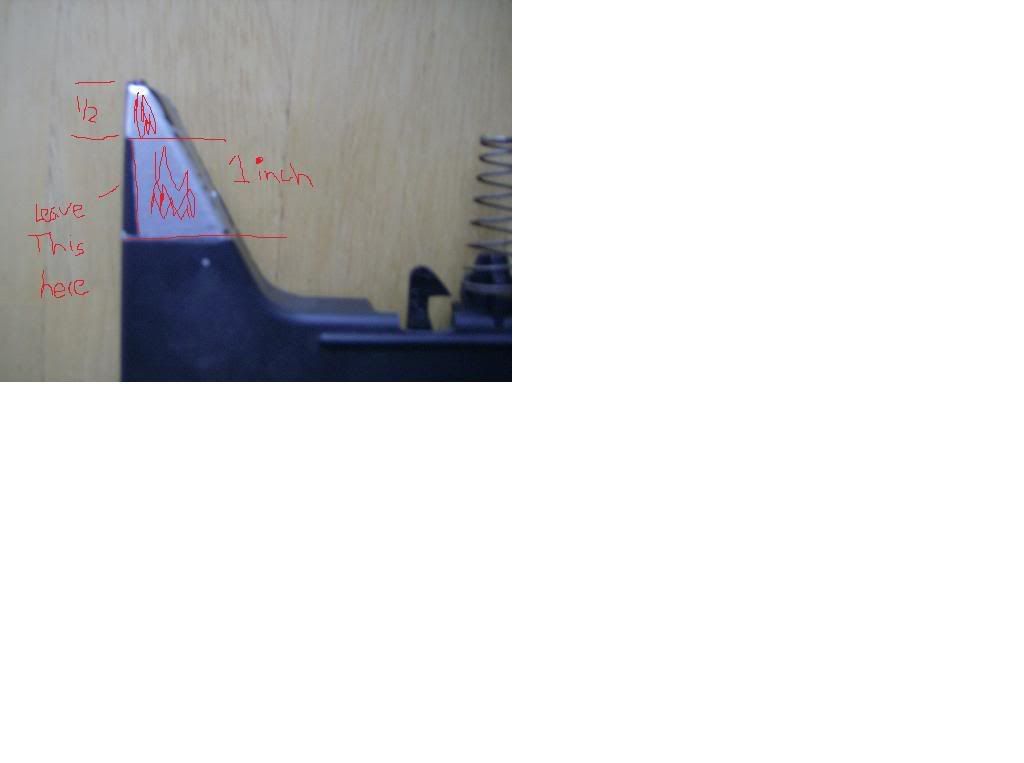 It will look like this when you're all done.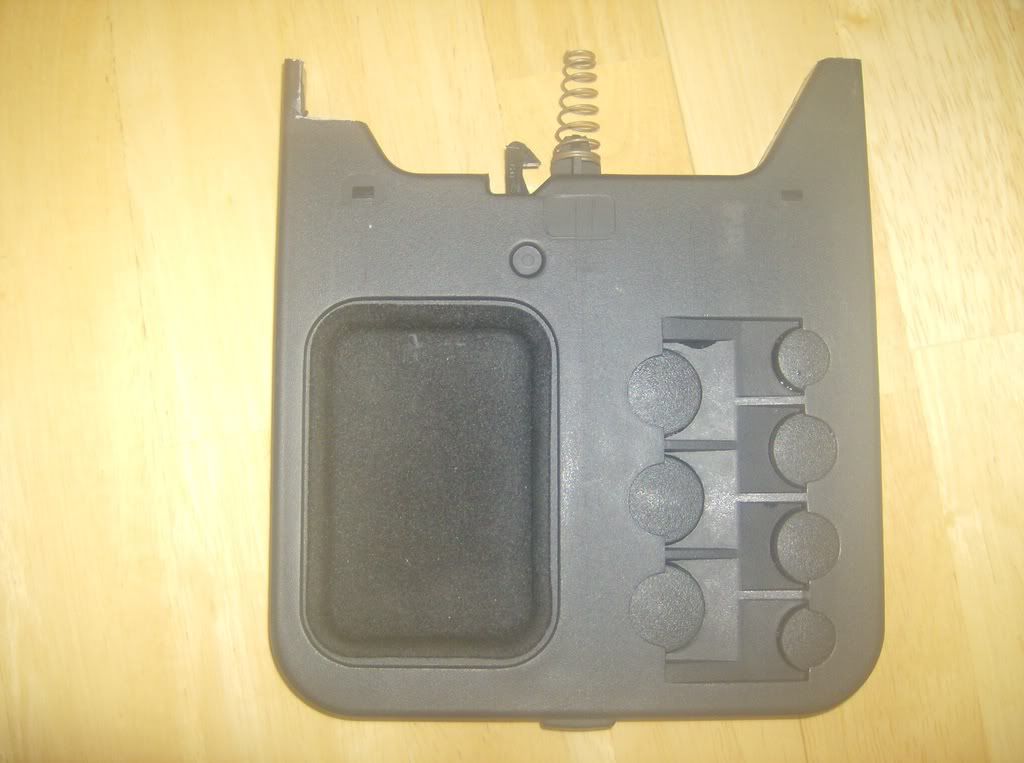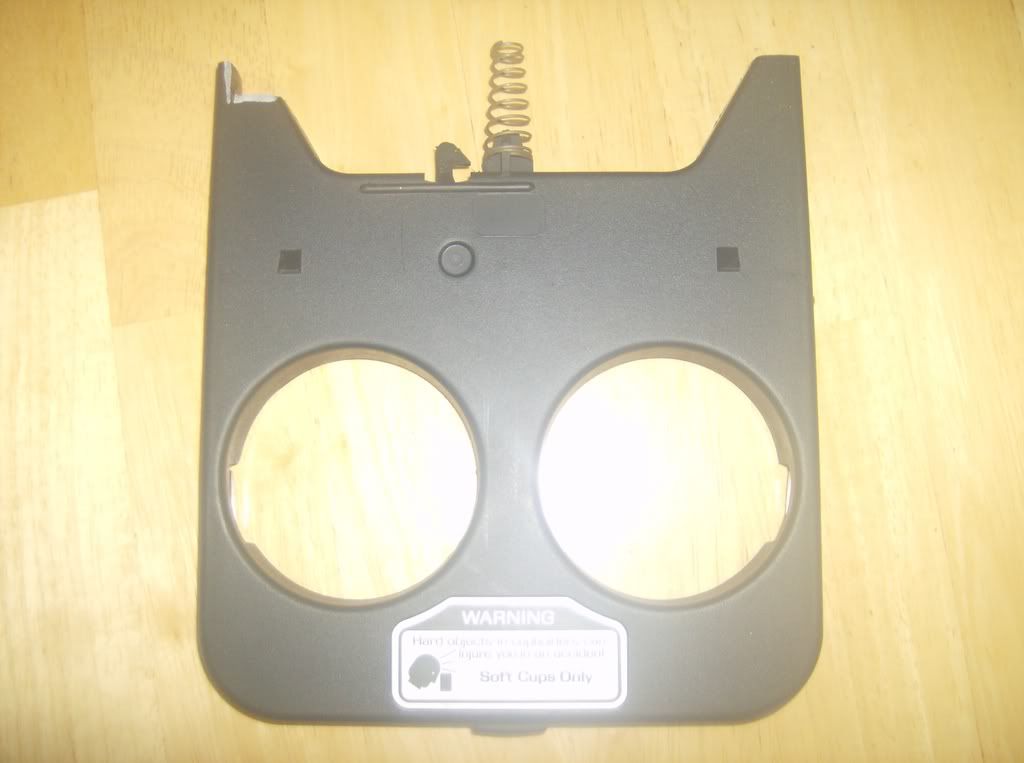 Last step option 1: If you cut off the side clips
The way I cut it makes it to where the wiring harness doesn't have to be moved you might have to pop the zip tie clip out though if it still hitting and the cup and coin will rest inside the dash peacefully
Last step option 2: If you kept the side clips
Push it in, you're done!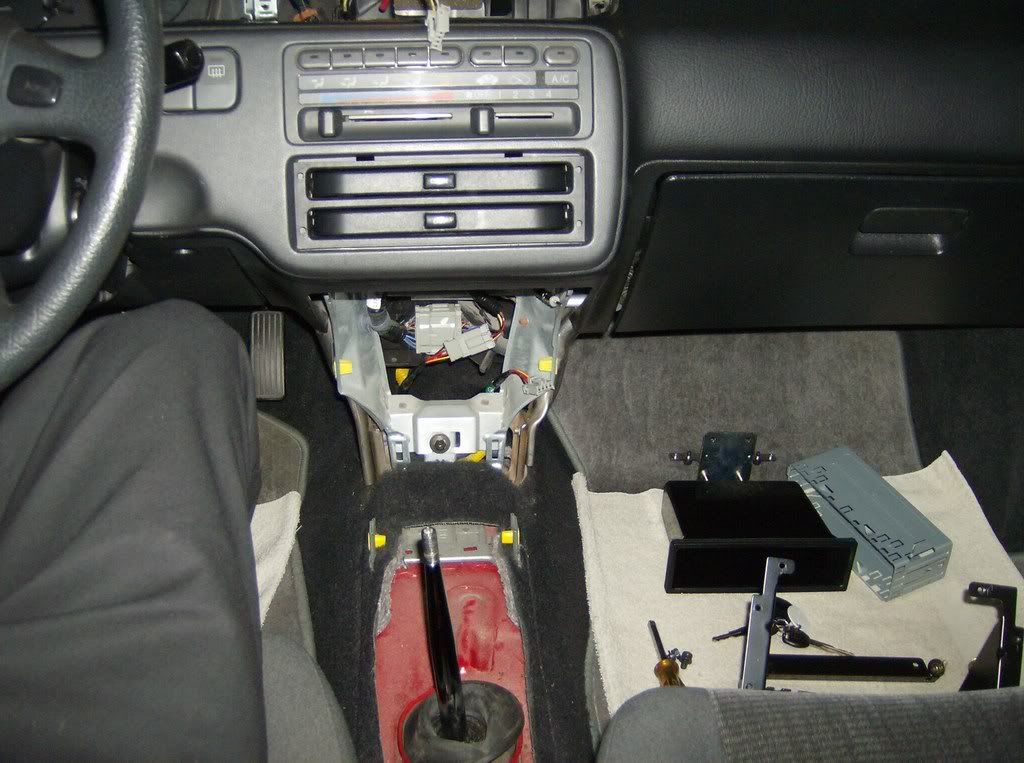 ---
Last edited by danomatic93; 09-07-2009 at

11:29 AM

.
05-07-2012, 01:08 PM
Honda-Tech Member
Join Date: Jan 2012
Posts: 38
Re: DIY Cupholder and Coin Tray in Single Din Slots
---
Sorry for bumping such an old thread my question is where do you find that tool for the proper installation and removal?

Again sorry for bumping this old of a post
05-07-2012, 06:23 PM
Re: DIY Cupholder and Coin Tray in Single Din Slots
---
more importantly, what did you do with your cd player?
05-07-2012, 08:57 PM
Re: DIY Cupholder and Coin Tray in Single Din Slots
---
You can buy the tool at any auto audio specialty shop. Crutchfield, Best Buy, eBay. It wouldn't surprise me if you could pick them up at Walmart in their audio section as well.
05-11-2012, 11:16 AM
05-11-2012, 11:18 AM
Honda-Tech Member
Join Date: Mar 2012
Posts: 386
Re: DIY Cupholder and Coin Tray in Single Din Slots
---
civic-eg
07-10-2012, 05:59 AM
Trial User
Join Date: Jun 2012
Posts: 2
Re: DIY Cupholder and Coin Tray in Single Din Slots
---
So here is my question, i was thinking of actually doing this, problem is i have a dvd flip screen, if i get the lower double din center console, will i be able to use the dvd flip screen stereo? Not sure if i've seen anyone do this yet before. Only see a single din stereo, my stereo is single din but flips.
Thread
Thread Starter
Forum
Replies
Last Post
Southern California (Sales)
Honda CRX / EF Civic (1988 - 1991)
Southern California (Sales)