Mysterious Hose.... (with vacum???)
12-07-2004, 04:12 PM
Honda-Tech Member
Join Date: Oct 2004
Location: Portland, OR, USA
Posts: 261
Likes: 0
Received 0 Likes on 0 Posts
Mysterious Hose.... (with vacum???)
---
Engine is D16Y7. This Mysterious hose has NO place to hook up to. I went to 3 different dealers and looked at 97 hatchs. (Same as mine) They dont even have the hose at all?!?! Not even a hole for a hose. Maybe you know.

The hose is located on the far right intake runner. (if you had the hood up and were looking straight into engine bay) Where the runner makes its turn to go to the throttle body, right at that "kink". There is a small flat area (on the backside of runner). This is were the hose comes from.

The hose has vacum. When I plug it, the car boggs down. With it unpluged car SEEMS to run perfect. But I would think that cylinder would be running lean. (too much air)
Any tips?

NICK
12-07-2004, 04:21 PM
Honda-Tech Member
Join Date: Oct 2004
Location: Portland, OR, USA
Posts: 261
Likes: 0
Received 0 Likes on 0 Posts
Re: Mysterious Hose.... (Nick97hatch)
---
Right by the black bracket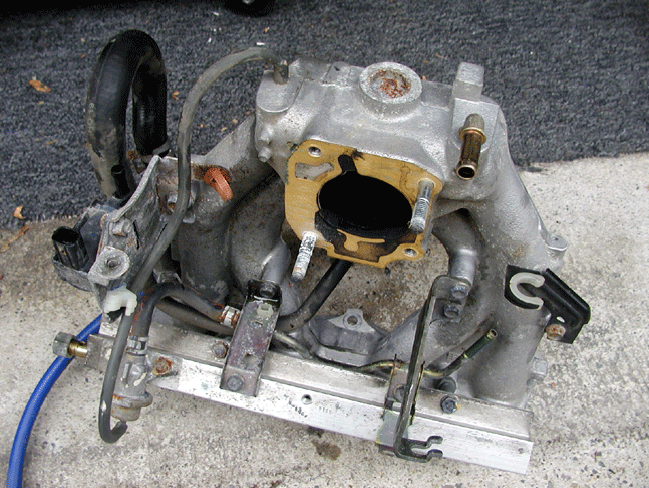 "What exactly did you do to get this misc. hose dangling about?"
Opened the hood
My car is 5sp by the way.
12-07-2004, 04:38 PM
H-T White Ops
Join Date: Jun 2003
Location: Nor Cal
Posts: 4,875
Likes: 0
Received 0 Likes on 0 Posts
---
I don't see it. I see your FPR vacuum line that taps into the back of your IM. Then there's that hard line coming off your FPR which is your fuel return line. That big brass looking fitting at the top right of the pic is your brake booster line I believe. Are you talking about that blue hose? Can you use paint and circle the hose you're talking about?
12-07-2004, 05:08 PM
Honda-Tech Member
Join Date: Oct 2004
Location: Portland, OR, USA
Posts: 261
Likes: 0
Received 0 Likes on 0 Posts
Re: (IslandSi)
---
I dont know how to paint it sorry
This is not my intake either, just a pic on the net
In between the brass fitting and the black bracket on the far right intake runner. The small "nub" right were the runner curves. The picture has NO hole for the hose.
Any one see it yet?
Nick
12-08-2004, 05:53 AM
Honda-Tech Member
Join Date: Oct 2004
Location: Portland, OR, USA
Posts: 261
Likes: 0
Received 0 Likes on 0 Posts
Re: Mysterious Hose.... (Nick97hatch)
---
THAT IS IT!!!

I'll try to plug it and reset ECU after work. I'll post the results then also.

THanks
NICK