Hawaiian Music
11-21-2007, 12:25 PM
Hawaiian Music
---
There are hundreds of songs I like. If I had to choose one song that I rank as the "most beautiful song" it would be
Pua Olena
by the Lim Family (translation - The flower song). The song won the Na Hoku Hanohano award (Hawaii's version of the Grammy) and sung by daughter Lorna Lim in 1981.
Hear for yourself.
http://youtube.com/watch?v=k0k3jFoQf0w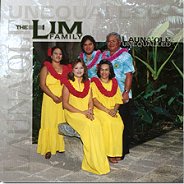 Modified by GoLowDrew at 2:25 PM 4/1/2008
12-03-2007, 06:05 AM
Re: Hawaiian Music (GoLowDrew)
---
One of my favorite musical group is Kalapana. One of the most successful band in Hawaii from the 1970-1980s.
http://www.youtube.com/watch?v...lated
Lead singer Mackey Feary (far right in pic) had been in trouble with drugs, spouse abuse, etc. The cycles of meth. He was locked up in jail. Failed a drug test, sentenced to 10 years.
Kalapana reunion concert last performed again in 1998. Mackey Feary killed himself in jail 1999, two days after the judge refuse to reconsider his sentence.
I saw Mackey Feary at a parking lot in Aiea once, leaning over the driver window of a car, talking to the driver inside. He looked bad, skinny, home-less like, and exactly like what the news has been reported about him. Sad. Consider what talent this man had. How he gave up everything for meth.
1998
12-07-2007, 09:43 AM
Re: Hawaiian Music (GoLowDrew)
---
As a child, I enjoyed the music from the group call "Makaha Sons of Niihau." They were a simple backyard band that became famous. Israel Kamakawiwoole became the front man, after the death of his brother Skippy (middle in picture). That lead to a solo career where he became famous around the world.
"Braddha Iz", was a big man. He stood 6'2" and once weight 750lbs. I saw in him in person once and it was an awe inspiring experience. Not because of his size, but there was just a spritual feeling about him.
I was never a fan of his music, and don't know any of his songs. But many around the world did fall in love with it. I was surprise to find his CDs in the home of my (haole) mainland friends. How did they know about Iz? He past away in 1997 due to a heart problem. His popularity continues to grow with his death. His songs have been used in movies and commercials even today.
I heard one of his songs "Over the Rainbow" years after his death. The song was a remake, but it's all Braddha Iz.
http://www.youtube.com/watch?v=Mr-alr7P_qk
I now know the magic of Israel Kamakawiwoole.
He once said "Our body is just a shell." "We are all sprits."
12-17-2007, 01:34 PM
Re: Hawaiian Music (GoLowDrew)
---
Many think "Hawaiian Music" are song sung in Hawaiian which most of us don't understand. The Modern Contemporary category is also widely popular, and could be accepted across the states. The songs and artist could easily be from the recording studios in L.A. One example is Nohelani Cypriano.
http://www.mele.com/hawaiianMP3s/51_01.mp3
12-21-2007, 08:44 AM
Re: Hawaiian Music (GoLowDrew)
---
C & K
One of the most successful dual in Hawaiian music history. There past concert tour promoting their latest CD 30 "Lifetime Party Vol 2 - 30 Years of Friendship." They are no different from any musical group. The begining, the success, the split up, the solo careers, the reunion, and now 30 years of friendship.
From the 1975
I attended there concert in Los Angeles in 1998. Aside from Cecelio wearing a long 1970's hippie wig (he's loosing his hair), I noticed something not right about the concert performance. When musicians "jam" they often face each othe to feed off of the energy and vibe from each other. That's how they did it in 10, 20 years ago. It looked like they were doing their job, and earning money to pay the bills. The number of times they even looked at each other I can count on one hand. A far cry from the "Brother-love" bond they once had. It saddens me to see performers who don't enjoying performing with each other. This was during their "reunion" phase, and a promotion of their "new" CD which is really a collection of the greatest hits + 2 new songs thrown in. Either case, it was a great concert performance.
I'm not sure what their relationship is like now. But it's good to see them still together for 30 years.
http://www.youtube.com/watch?v=imrXZrBwPRU
Here they are in concert at Aloha Tower Marketplace for their 30 years of Friendship.
01-03-2008, 08:31 AM
Re: Hawaiian Music (GoLowDrew)
---
Na Leo Pilimehana (currently Na Leo)
Their story is no different from many other backyard groups. Three childhood friends who like to sing. In the early 1980s, a talent contest for High School students call Brown Bag to Stardom was started similar to the Star Search or American Idol. The winner get's a record deal. Anyone could complete to represent their school. My friend did a solo piano performace of the
Hill Street Blues
theme. He didn't win. But Na Leo Pilimehana did, and went on to produce many more records for 20+ years. The group stayed together even with their sucesses. Maybe because they started out as friends. I'm sure there were pressure to break up the group and go solo, as some members are more marketable than others.
One thing that is refreshing is the fact that they lived a balanced life. They are no only singers, song writers, etc, but also mothers and wives. Sometime it's better not to be too famous, and go to Hollywood.
Early work.
http://www.mele.com/hawaiianMP3s/592_01.mp3
Later work.
http://www.mele.com/hawaiianMP3s/941_02.mp3
01-10-2008, 05:57 AM
Re: Hawaiian Music (GoLowDrew)
---
Kealii Reichel
His music skyrocketed to the hearts of many in Hawaii. But it took place after I left Hawaii. So perhaps I don't know his true popularity. As a scholar of the Hawaiian culture and language, his Hawaiian songs and dance reflected the current trend of Hawaiian Solvernty. His teachings and inspiration as a Kumu Hula will surely preserve and foster the Hawaiian Culture for future generation. This is great as many (including I) fear the language and culture would be lost. Hawaii would not be Hawaii, without being Hawaii.
Here is his remake Hawaiian version of The Beatle's
In my Life
.
http://www.youtube.com/watch?v=MynGNffwV0g
Unlike many famous people who are gay, from what I have read, he never made that an issue. If there is a cause or a stance he needs to take, it's always about the Hawaiian culture. Hawaiian art and music comes first. Not gay rights, gay bashing, etc, etc. People love him and his work. That is what's important and what he wants it to be about.
02-05-2008, 07:13 AM
Re: Hawaiian Music (GoLowDrew)
---
Glen Medeiros
Many artist struggle to maintain a music career. Then there are one-hit-wonders like Glen Medeiros from Kauai. Again, product of the Brown Bag to Stardom talent contest in high school in the late 80s, he became an star in Hawaii, across the U.S. and internationally. With his good looks and strong voice, he quickly filled in the gap left by the early Boy Bands such as New Kids on the Block, to become a teenage heartthrob.
http://www.youtube.com/watch?v=SuxZK8hwn8g
As fast as he rise to the top with this one song, he was quickly gone from the spot light. Web search mentioned he is currently a teacher at a Catholic high school. Not music, but history.
02-11-2008, 02:08 PM
Re: Hawaiian Music (GoLowDrew)
---
Jake Shimabukuro
http://www.youtube.com/watch?v...lated
With time, some skill becomes a lost art. The Ukalele was a small 4 string guitar introduced to Hawaii by the Portuguese plantation workers.
Many in Hawaii are familiar with the sounds of an Ukalele. We all played it during music class in Elementary school. However, the amount of music Jake is able to squeeze out of 4 strings is incredible.
Jake is often call the "Jimi Hendrix of Ukalele." Rather than taking the traditional route of learning from Ukalele masters, Jake's inspiration are musicians such as Eddie Van Halen or Carlos Santana. This combo makes his music special and unique.
03-07-2008, 07:23 AM
Re: Hawaiian Music (GoLowDrew)
---
Robert Beaumont
Robert Beaumont was the other half of the group Olomana (with Jerry Santos). He died in 1982 due to a drug overdose. In not far to say many musicians use marijuana. But the 1980s also made popular many other drugs, which he may have underestimated the strength. The story is not new. Great singer die from drugs during the peak of their career.
At the Na Hoku Hanohano award (Hawaii's Grammy), Robert Beaumont's girlfriend stood up, interrupted the program and blasted the music industry for not "recognizing" his death. It included some colorful language. Many have said that she may also have been on drugs, to lash such a public display.
She does have a point. But perhaps music executives want to hide the ugliness of the music industry. Robert Beaumont died from his own mistake and carelessness. To celebrate his music, would perhaps remind the public of what he has become - a drug user.
Either case, I love his music. All of his songs are peaceful, relax and comforting. It may be one dimensional. But he was the best at it.
http://www.olomanamusic.com/au...e.ram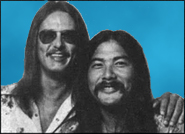 Robert Beaumont (right)
04-01-2008, 01:23 PM
Re: Hawaiian Music (GoLowDrew)
---
Nueva Vida
I can't tell you a single original song they did. I can't even say I like their music. However, when they sing other people's song LIVE, Nueva Vida is simply magic. IMO, the best live band you can enjoy in Hawaii. IMO, it's not a band you sit at the front row and listen to. But more like the background performance to whatever you are doing in the foreground. Like you see in the movies, or TV. During my "Baller" days at Restaurant Row (that term has not been invented yet) in the 90s, I have countless memories chillin at the bar with my boyz and friends. Nueva Vida always deliver with a performance that fit the mood. I generally don't like Live Bands. This one gets my
.
Current album. Boy....They really aged. Well, so have I.
04-04-2008, 12:17 AM
Re: Hawaiian Music (GoLowDrew)
---
<TABLE WIDTH="90%" CELLSPACING=0 CELLPADDING=0 ALIGN=CENTER><TR><TD>
Quote, originally posted by GoLowDrew »
</TD></TR><TR><TD CLASS="quote">Jake Shimabukuro
</TD></TR></TABLE>
The guy's insane. I caught the after race concert he did for the 06 Honolulu Marathon.
He ran the damn marathon and then played a concert right after. NUTS if you ask me. I ran the marathon last year and wasn't walking for 2 solid days after that.
07-11-2008, 08:00 AM
Re: Hawaiian Music (GoLowDrew)
---
I worked with a famous celebrity and musician and didn't even know it. As a fresh out-of-college trainee, I was assigned to a car dealership for my tour of duty. Martin Pahinui was a lot attendant. Most lot attendant hate their job. Hate the dirty work, don't want to be there, and try to get away with whatever they can. Martin was different. He always had a good happy positive attitude and sings all the time. You don't find lot guys "enjoying" this type of work. Rain or shine. Hot or humid under the Hawaiian sun, Martin never found an excuse to do his job. When we had a show, guys at the dealership would say "Bring Martin."
I heard of his father, a legend, Gabby Pahiuni. Slack key guitar player. Gabby's sound was unique because of his talent. And could be that he was a left hander playing on a right hander's guitar. So everything was "backwards."
Ok, same last name and I never made the connection.
Martin goes about his job everyday and I always see him working. He never once used his celebrity status for special treatment. He never talked about it. Most, like myself, didn't even know he was famous. Martin have a few albums (CD), part of many bands, including his father's and also with the Peter Moon Band. He could literally detail cars on Friday, and perform at a concert on Friday night. Wow, I never knew and he never said so. Not that it was a secret, as everyone knew who he is. Just a humble proud hard working Hawaiian man who loves music, like his father.
Martin is currently playing every Sunday evening at The Marriott Waikiki Beach Hotel.
Sample of his music.
http://www.mele.com/music/arti...isten
/
Thread
Thread Starter
Forum
Replies
Last Post
General Discussion and Debate
General Discussion and Debate
General Discussion and Debate
General Discussion and Debate