The Mega Meet is back!!!!
08-24-2007, 05:29 PM
Honda-Tech Member
Join Date: Jul 2004
Location: PigTown, Germany
Posts: 1,744
The Mega Meet is back!!!!
---
If you went to them then you know its awesome!
<TABLE WIDTH="90%" CELLSPACING=0 CELLPADDING=0 ALIGN=CENTER><TR><TD>
Quote, originally posted by jspecb18c;3333920 »
</TD></TR><TR><TD CLASS="quote">
Please Click Here For The Official Event Flyer
The Mid Atlantic MEGA MEET (
http://www.megameet.org
) was an organized car meet with the permission of VDOT during the 2005/2006 season. However, due to it's extreme popularity the meet had to be cancelled because the parking lot was just not big enough. Our passion for this type of event never left our hearts and we have now been given the opportunity to hold a charity show event where 100% of the proceeds go to the local Boys and Girls Clubs. It is scheduled for the 29th of September, 2007 at the Prince William Fair Grounds and we are expecting a HUGE turnout. We currently have several large corporate and local area business sponsors but we are working very hard to bring even more on in order to make this an unforgettable day. Precision Motorsports will also be out with their Motorcycle Dynamometer along with live music, DJs and food vendors galore. 50 trophies (ranging from 1ft to 4ft) along with vendor giveaways will be provided for 1st, 2nd and 3rd place for all kinds of car/truck/bike classes. The cost is $20 to show, adult admission is $10 and kids 12 and under are FREE! However, if you bring the above flyer with you to the show, you will receive $5 off any one type of admission or registration. This will set the precedent for all future events that we plan so we need all of your help to get the word out and make it an incredible day! Make sure you mark this on your calendar and don't forget our slogan:
Cars, Trucks, Bikes, People, All Colors, All Styles...You bring the fun!
If you are or know anyone who is interested in becoming a sponsor/vendor and would like to discuss this opportunity further, please contact the Mid Atlantic MEGA MEET Public Relations Director (Ryan Leffas) at (703) 501-6444. Thanks.
</TD></TR></TABLE>
Modified by Young L at 9:32 PM 9/9/2007
09-06-2007, 02:28 PM
---
09-06-2007, 02:28 PM
---
Some people have been asking what the PWC Fairgrounds looks like so here is an ariel photo....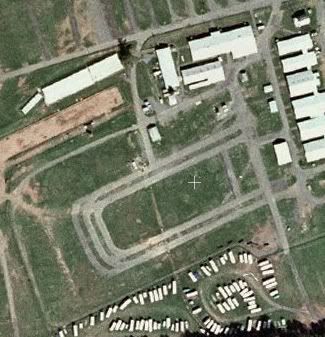 Here is how we are planning to have it setup the day of the show....
All of the dark lines are paved roads for driving to the show parking area. The show parking are is packed gravel with grass growing through it with no mud or dirt areas. The way we have set it up is you will drive on the pavement right up to the parking spot. You will then back on to the packed gravel/grass mix just off the pavement. For the people not showing their vehicles, the general admission parking is just like the gravel parking at MIR. This will not be a mud fest because I would not park my car there if it was and I would not expect anyone else to. Plus think about it, you are parking on the same ground they set up 30 to 40 thousand pound carnival rides on. Please click on the following link for directions to the Prince William County Fairgrounds....
Driving Directions
-Ryan
09-06-2007, 02:29 PM
---
If your club/team is planning on attending the show and would like to compete for the largest club/team trophy, then all vehicles must have the club/team name/website displayed on them.
The MAMM Management fully understands that judging is a huge issue when it comes to any type of show. We are doing our best to have judges that are very familiar with the individual class that they will be judging so that we do not have a situation where someone is judging a type of vehicle that they are not familiar with. If you know someone that is experienced in judging these types of shows/events, please have them contact us via email at
[email protected]
Thanks.
There is also limited indoor parking available for the very high-end, extreme custom and premier vehicles. If you feel you could meet the standards and would like to apply, please send an email with pictures and a brief description of your car to
[email protected]
. Thanks.
Remember that the cost is $20 to show, adult admission is $10 and kids 12 and under are FREE!
However, if you bring the above flyer with you to the show, you will receive $5 off any one type of admission or registration.
Also, the first 100 cars to sign up for the car show that day will receive a free gift of over $35.00 value!
The show starts at 8:00am for registration, gates open at 10:00 am for regular admission, judging will begin at noon, trophies/awards will be given out between 4:00-5:00pm and gates close at 6:00pm.
-Ryan
09-11-2007, 01:17 PM
---
Goodie bags will be given to the first 500 people that come the day of the event and register their vehicle for the show. But make sure that you are one of the first 100 in order to also receive a free gift worth over $35.00.

Meguiar's is also providing the Best Paint Trophy Winner and all of the 1st Place Show Class Trophy Winners with one of their popular Car Care Kits which is worth over $120.00 each!

-Ryan

09-17-2007, 10:01 AM
---
We will be parking the vehicles as they show up for the show like how almost all shows do the parking. So if you all want to park together, then come to the show as one group but we are not seperating each type of vehicle like how we tried for the original MEGA MEETs.....it was just too much trouble.

-Ryan

09-28-2007, 01:55 PM
---
The weather looks to be great, the indoor area is sold out, the vendor midway is sold out, we are going to have lots of food and drinks, five live bands, two dj's and a bunch of the hottest cars in the Mid Atlantic Area. I know we have people coming from as far north as N.Y and as far south as GA......so it is going to be a good day for all. The greatest thing is that the Boys and Girls Clubs are going to get a huge donation due to this event which will help a lot of kids. See everyone this Saturday!

-Ryan
10-08-2007, 06:52 AM
---
The Mid Atlantic MEGA MEET (MAMM) Management would like to thank everyone who attended the show this past weekend because without your support, we would not be able to hold these types of events. We also encourage you to check out the list of sponsors who helped to make this show such a huge success….
MEGA MEET Fall Show Sponsors
In the beginning, the Boys and Girls Clubs contacted the MAMM to help organize and advertise a car show for them. Even though we did not normally do this type of event, we are 100% pleased that we became involved because over $26,000 was raised to help support their goal of inspiring and enabling young people to realize their full potential as productive, responsible, and caring citizens.
However, our ultimate goal has always been to hold a MEGA MEET event like how it used to be at the VDOT lot and we hope to have a huge surprise for everyone in the upcoming 2008 season. Thanks again for all the support and have a great holiday season.
-Ryan
Thread
Thread Starter
Forum
Replies
Last Post