Honda Civic: Specifications by Trim
Wade through the ocean of different trim levels and find the one that's best for you.
This article applies to the Honda Civic (1992-2000).
Honda has never been shy about offering the Civic a wealth of trim levels. Knowing the difference between them makes it easier to identify what's in a Civic at first glance. Different trim levels have different features such as stereos, armrests, tire size and interior trim. With each higher trim level for the Civic, there's additional comfort and luxury equipment (plus additional cost). This article will explore the various trim levels for the Honda Civics released from 1992-2000.
CX Trim
The Honda Civic's CX trim has a 1.5-liter, 70 horsepower engine. The 2000 release had a 5-speed manual and overdrive transmission. It also has a 14-inch steel wheel rims and fog lights. The CX is as stripped out as a base model can get. They're very light, but also difficult to find.
DX Sedan Trim
This Civic Sedan DX trim has a 1.5-liter, 102 horsepower, 4-cylinder engine. 1996-2000 models were upgraded to a 106 horsepower motor. The D-series motor nets 36 miles per gallon on the highway. It has front fog lights, traditional air conditioning, tilt steering, rear wiper and 14-inch steel wheels. Models ordered with automatic transmissions also came with power-steering.
LX Sedan Trim
The LX Sedan adds more functionality to the base Sedan. It has front air conditioning and 14-inch steering wheels with alloy rims. There also are front fog lights, 5-speed manual and overdrive transmission. Other upgrades included a tilt steering and front seat center armrest. The exterior doors, windows (tinted) and mirrors are also powered. The LX also has cruise control to reduce driving fatigue on long trips. LX models are also equipped with a tachometer.
EX Coupe Trim
The mechanical upgrades in the EX trim are front air conditioning, tachometer, power door locks, center console, fog lights, power steering, keyless entry, and trunk release. There is also the powered tinted windows, exterior mirrors, multi-function remote, as well as sliding and tilting sunroof. The audio system is a single CD disc and an AM/FM radio. The wheels are 14 inches steel and 5-speed manual transmission with overdrive.
1992-1995 Civic EX models were built with a 125 horsepower, 1.6-liter motor with VTEC. 1996-2000 models were also equipped with a 127 horsepower VTEC motor.
Si Coupe Trim
Civic Si is a pricey, powerful, sporty Honda Civic. Its air conditioning, doors, windows (tinted), exterior mirrors and sunroof are all powered. The sunroof can also slide and tilt. The alloy rims are 15 inches with modern versions being 18. There are also rear disc brakes. For long drive comfort, there is the cruise control. The steering wheel, like other interior parts, are finished with leather and is equipped with keyless entry. Si trim also has a tachometer, front air dam, which is vital for aerodynamics, engine cooling and stability in high speed. Si trim also comes standard with front air conditioning.
Traditionally, the defining factor for the Si models have been their engines. Earlier Civics were built with the a 1.6-liter D-series, 125 horsepower motor. After 1996, the Si models were equipped with the B16A2 series, 160 horsepower motor.
Figure 5. The Si Couple engine.
Value Package (VP) Trim
The value package trim comes with air conditioning, keyless entry, 14-inch alloy rims, as well as powered doors, windows (tinted) and mirrors. There is the cruise control, 4-speed auto transmission with overdrive and fog lights. They're also equipped with power steering and a tachometer.
They were introduced in the 1998 as a slight step up from the base model DX. They had special paint and were available in the Sedan form only.
HX Coupe Trim
Added features in this trim series are the front air conditioning and the key fob, which allows for remote keyless entry. The door locks, mirrors and windows are powered. There is an AM/FM radio and a tachometer.
The HX series was designed for high-efficiency driving. They were equipped with a CVT (rare at the time) and the D16Y5 motor. Notably, this engine was equipped with VTEC-E, a technology designed to increase low-rpm fuel efficiency.
GX Trim
This is the 'green' trim and runs on natural gas. It has 1.6-liter capacity, but its level features mirror the other trims. It has a front air conditioning, 4-speed auto transmission with overdrive and 14-inch steel wheels. Of all the trims outlined this is the latest and came after the year 2000.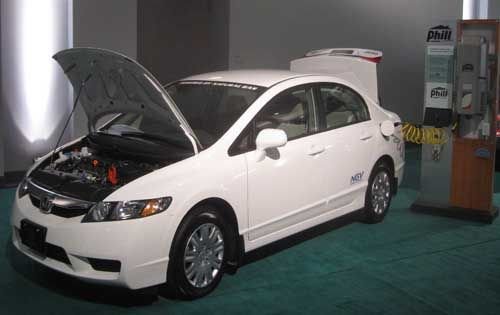 Related Sites