Honda Ruckus Austin Tx NON-Con Meet April 23-25th
03-12-2010, 03:36 AM
Honda-Tech Member
Honda Ruckus Austin Tx NON-Con Meet April 23-25th
---
This is a
meet. We plan on riding all over Austin Tx, Partying, meeting new people, and having ONE HELL OF A GOOD TIME. We dont care if your riding on a 80's Spree. Come out and join the group. We have people coming from all over Texas and bringing out alot of Custom rides. We have other events set up for the night owls that dont want to go to bed when the street lights come on. So if you are one of these people here are a few events.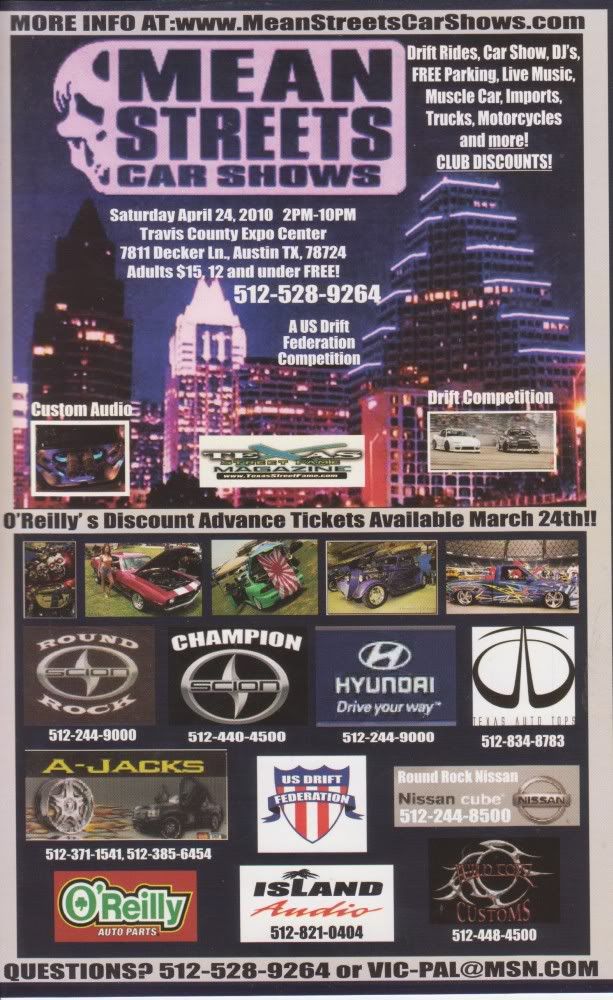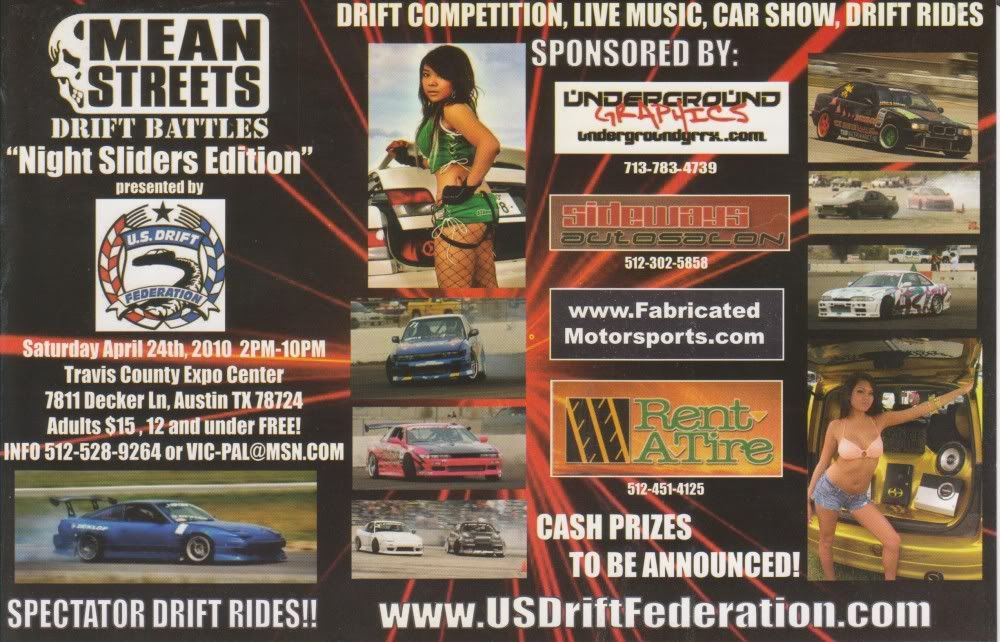 Entry Fees ~
1-9 entries with 2 armbands each = $45.00 each
10-19 entries with 2 armbands each = $40.00 each
20-29 entries with 2 armbands each = $35.00 each
30-39 entries with 2 armbands each = $30.00 each
40 entries up ~~~ entries with 2 armbands each = $25.00 each
Entry Rules & Roll In ~ All judges scores are final. All score sheets will removed from the sh
ow area before the awards begin and all scoring questions must be handled via email.
Club Incentives ~
1. If you bring at least 10 entries the Venue allows you to bring in you own food & drinks and to grill/cook out. We will also provide your own "grass island area" with electric access [while they last} for 'Head Quarters".
2. Bring in 30 entries and we'll put up a 15 foot link fence segment to hang your colors high & PROUD!
3. Bring in 40 entries and we will get you the link fence and two stage sections because if you are bringing that any cars; ....your probably bringing a DJ too.. aren't cha? Or do you want to do your own model contest? Neon Contest? You know you want to....Go ahead admit it!
Best Club Participation~ This award goes by the quantity of Club entries only.
Best Overall Club~ This award takes into account the approx. average of score for the average entry of that particuar club + their set up foramation/ uniforms/ models/ games/entertainment, good sportsmanship and what did this Club bring to the show to make it better?,Vendors, a bikini contest, a band or DJ, a place to cool off and watch a little Fast N Furious? How Cool was their Jewel? All puff or hot stuff?
This Motel 6 is our normal meeting spot:
Motel 6 austin central - south/univ of tx #1118
5330 n interregional hwy
i-35 at 51st st, exits #238-a/238-b
Austin, TX, 78751
Phone: (512) 467-9111
http://www.motel6.com/reservations/m...=C&BTRSID=&CP=
Steve Guzman from thescooterscoop.com will also do filming for the rides/event.
---
Last edited by fracas; 03-12-2010 at

10:14 AM

.
Thread
Thread Starter
Forum
Replies
Last Post