CA FOR SALE: RUCKUS GY6 Big Bore
05-06-2015, 11:29 AM
FOR SALE: RUCKUS GY6 Big Bore
---
I am selling my Ruckus because I hardly ride it now. EVERYTHING was bought brand new from DROWSPORTS. DROWSPORTS was the one who built the motor also. If you have any questions or want more pictures PM or email me at
[email protected]
If you don't like my asking price or anything to do with the bike, PLEASE KEEP YOUR NEGATIVE COMMENTS TO YOURSELF AND DON'T TRY TO **** BLOCK MY SALE.
ASKING PRICE: $4800 (if i get my asking price, I will repaint the bike to whatever color you want)
Body/Frame:
Frame-Main frame: powder coated black
Battery box, seat and rear frame: painted pewter (vw/audi color)
DrowSports CF Neck Guard (air dam)
DrowSports CF Gas tank cover
Custom Gussets on Rear frame and Rear shock mount
Suspension/Brakes/Wheels & Tires:
RRGs Low Down front forks W/axle and axle nut
NCY Triple Tree
RPM 220mm Floating Front rotors
Frando 4 POT Front Caliper
Frando Master cylinder and levers (front)
Goodridge SS lines
CRG shorty levers (rear)
CF handle bars W/BLK Market Stem
Zuma left controls
Fox rear shocks
12" GY6 6 spoke wheels painted MAG BLUE W/RRgs black Valve stem
Ceramic wheel bearings
Michelin Power Pure SC tires Front and Rear
Engine/Transmission:
GY6 150 bored to 180CC
63mm big bore long case kit
Taida 63mm forge piston
Taida Racing valve springs
Stage 6 carb. W/stage 6 filter
Koso Billet clutch bell
Dr. Pulley clutch
Dr. Pulley roller weights
Dr.Pulley Variator
GY6 Performance Torque Spring bearing base
Killer Scooter motor mount
Jardine muffler W/customer header done by DrowSports
Dan Max GY6 engine Harness
Engine Case powder coated Gloss Black.
All new seals and bearings were used when motor was assembled.
MISC:
Seat is wrapped with suede and Bride material.
CRG side mirrors (L&R)
Smoked R6 tail lights
Rigid SR-Q2 LED Headlight W/DrowSports mount kit
DrowSports DOT front turn signals.
Ballistic 8 cell battery
Koso XR-SR gauge cluster
I will try to take some better pictures of the bike. Here is the build thread:
http://totalruckus.com/phpBB3/viewtopic.php?t=77844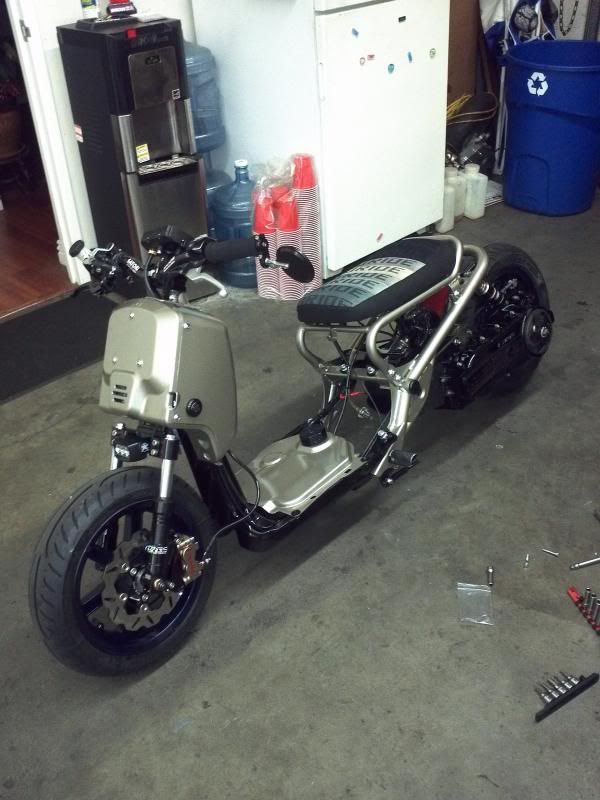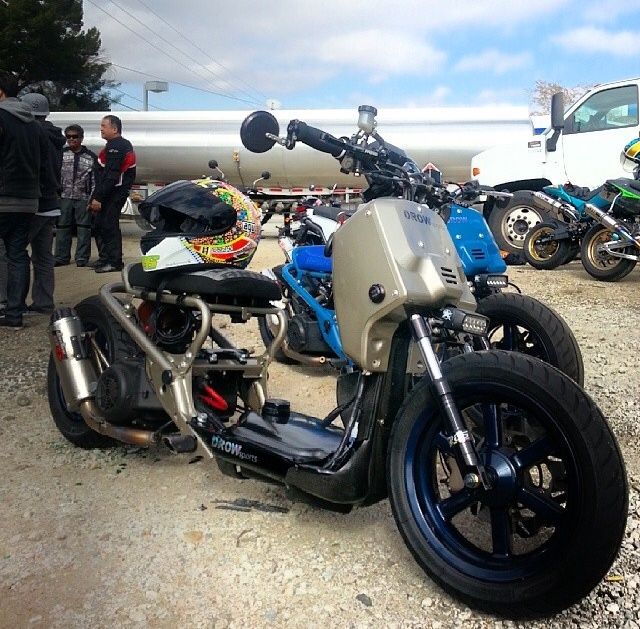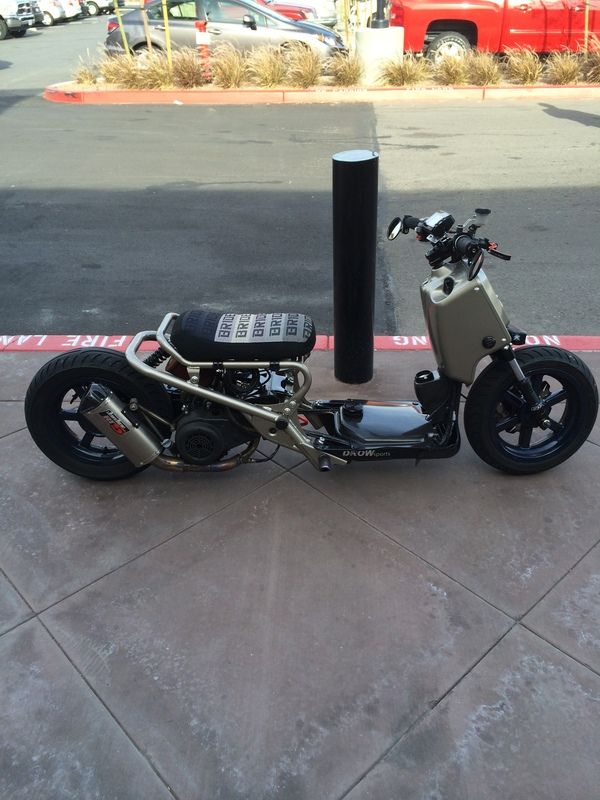 ---
Last edited by 2point0VTEC; 05-06-2015 at

11:46 AM

.
05-13-2015, 09:58 AM
STR8 to Ignore List
Join Date: Dec 2010
Location: PISTOLVANIA, PA
Posts: 162
Re: FOR SALE: RUCKUS GY6 Big Bore
---
"$4800 (if i get my asking price, I will repaint the bike to whatever color you want)"

what else do i get ? $2000 cash back ?
05-29-2015, 11:42 AM
STR8 to Ignore List
Join Date: Dec 2010
Location: PISTOLVANIA, PA
Posts: 162
Re: FOR SALE: RUCKUS GY6 Big Bore
---
these ruckus guys are nuts with these prices

a fully custom grom isnt even 5k
06-13-2015, 11:48 PM
Trial User
Join Date: Jul 2013
Posts: 1
Re: FOR SALE: RUCKUS GY6 Big Bore
---
10-25-2016, 08:45 AM
Re: FOR SALE: RUCKUS GY6 Big Bore
---
Thread
Thread Starter
Forum
Replies
Last Post
Honda Ruckus and Scooters
Honda Ruckus and Scooters