ILL GARAGE'S N/A Project JUNK
04-13-2011, 10:40 PM
ILL GARAGE'S N/A Project JUNK
---
Ls/Vtec, stock bore, stock stroke, used block with scored walls,
used old *** ls rods and old bearings
used b16 pistons and rings
stock gsr head and stock Gsr cams
custom pins machined to lock the rockers(poormans Vtec killer mod)
id1000s
skunk2 intake manifold
Blox 68mm tb
hytech rep header
custom 3"-4" intake pipe with 4" v stack
Simple simple simple setup
Tuned on e85 by Armando at ILL garage on ectune.
We threw this setup together with spare used parts from 3 different blocks, threw it together in one night. It has a dry kit on it but we did not have any juice tonight so we couldnt get juice numbers..only has a 80jet
Made 207.7hp and 175 tq
Going to take it to Import Wars on Sunday
JAKE THE SNAKE is gona make some grown men cry...
Goal is 11.9x on motor this Sunday on to the pics and a quick dyno vid...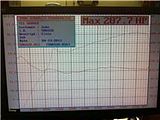 http://www.youtube.com/watch?v=C59Cn4yjjSY
Thread
Thread Starter
Forum
Replies
Last Post
Classifieds: Forced Induction
All Motor / Naturally Aspirated