End of Summer Sport Compact Shootout / September 18th, 2011
08-28-2011, 03:31 PM
End of Summer Sport Compact Shootout / September 18th, 2011
---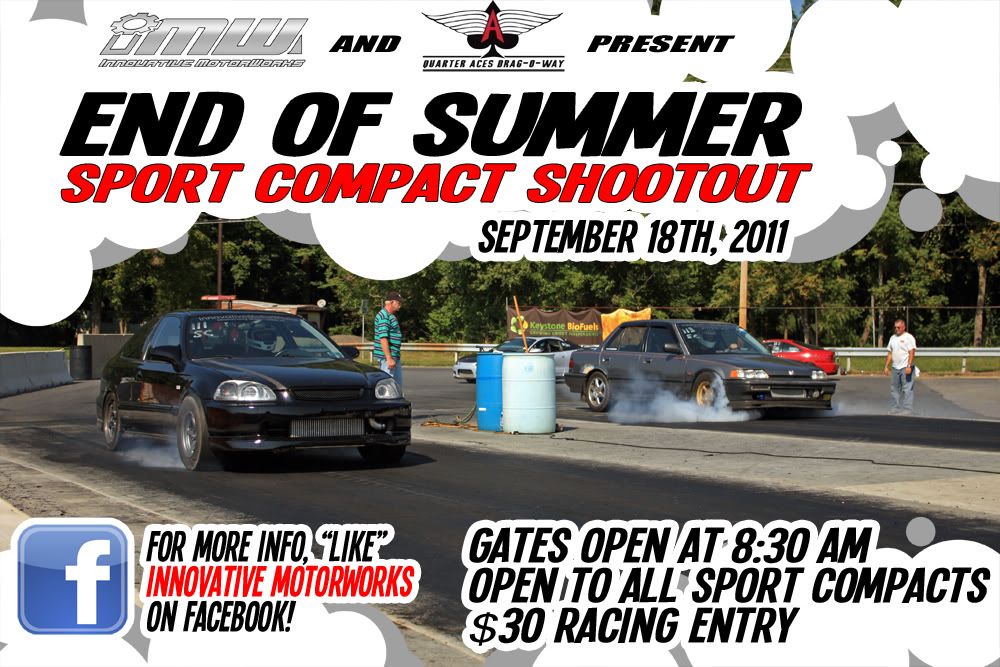 Time
:
Sunday, September 18 · 8:30am - 6:00pm
Location:

Quarter Aces Drag-O-Way

1107 Petersburg Rd
Boiling Springs, PA
Innovative MotorWorks and Quarter Aces Drag-O-Way are proud to announce the 2011 "End of Summer Sport Compact Shootout" on September 18th, 2011!

This event is open to any and all sport compact cars from the region!

Come join us for a day of racing, learning, and camaraderie over the cars that we love; not to mention having a shot at several cash prizes!

Quarter Aces is an 1/8th mile track located just outside of Carlisle, PA, and has undergone many changes over the course of the past couple years. The facility is newly-renovated, and has one of the finest 1/8th mile stretch of racing pavement around.

Gates open at 8:30 AM
Time runs begin at 10:30 AM

Racing is $30 all day
Spectators are $10
Children under 12: FREE

Hope to see you all!