Struck a Ruck for a deal
08-18-2011, 05:02 PM
Struck a Ruck for a deal
---
So I've been sitting and waiting for a deal to come along for awhile now. Gotta admit, I was on craigslist everyday. So on Sunday the 8th of August, I finally caught a deal that was way too good to pass up. It's a deal to me, but you guys can be the judge of it. 3,xxx on the Ruck, the guy did a quick sale, so he was asking for $1,000. I drove out 30mins, ended up talking him to $900, saying I had to buy misc parts. Like a battery, kickstand, and and other bs. So here she is cleaned up a bit, registered, and street legal. Oh, and he threw in a helmet, just for my drive :D. I only have one pic, but more mods will surely be coming. One iphone pic for now....Oooohh can't wait lol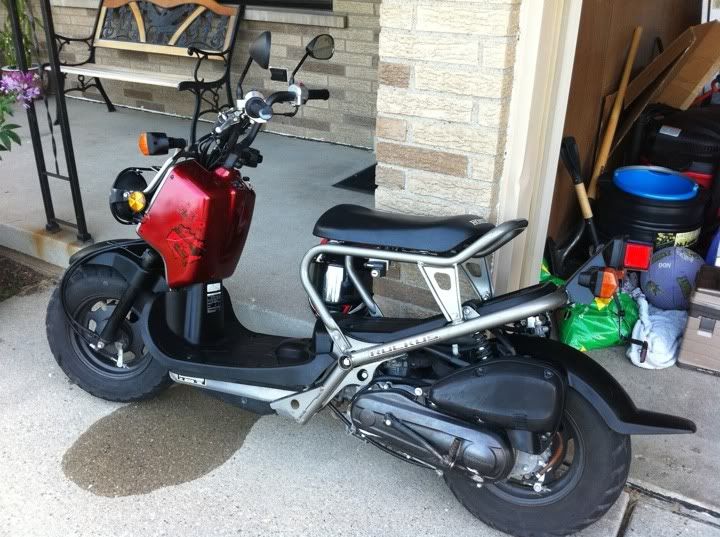 08-18-2011, 06:29 PM
Re: Struck a Ruck for a deal
---
congrats that is a killer deal, im getting my first ruckus tomorrow, for $1800 their not cheap where I am most cost $3000 so I think its an okay deal for a brand new one
08-21-2011, 12:27 PM
Re: Struck a Ruck for a deal
---
Enjoy it man! My ruckus and monster are the two best things I have ever purchased. I have made more friends through the ruck scene then cars or anything else. The are some really good people all across the country that mod and/or ride rucks.
08-22-2011, 12:44 AM
Honda-Tech Member
Join Date: Jun 2008
Posts: 1,316
Re: Struck a Ruck for a deal
---
Originally Posted by
313jdm
So I've been sitting and waiting for a deal to come along for awhile now. Gotta admit, I was on craigslist everyday. So on Sunday the 8th of August, I finally caught a deal that was way too good to pass up. It's a deal to me, but you guys can be the judge of it. 3,xxx on the Ruck, the guy did a quick sale, so he was asking for $1,000. I drove out 30mins, ended up talking him to $900, saying I had to buy misc parts. Like a battery, kickstand, and and other bs. So here she is cleaned up a bit, registered, and street legal. Oh, and he threw in a helmet, just for my drive :D. I only have one pic, but more mods will surely be coming. One iphone pic for now....Oooohh can't wait lol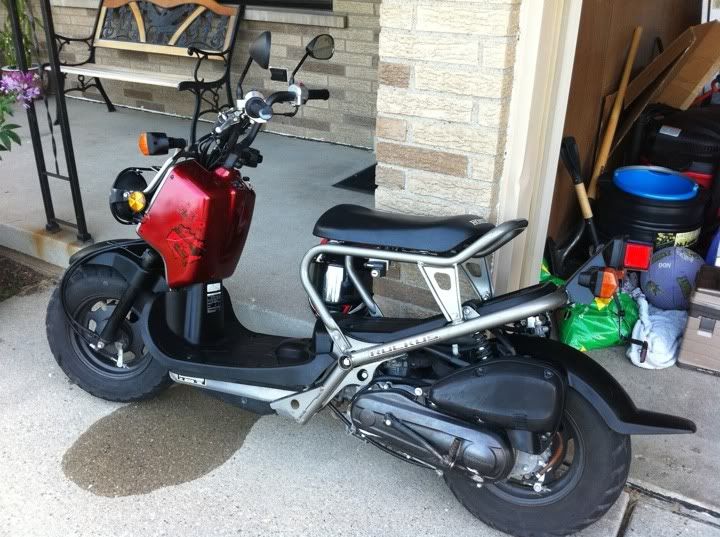 Its leaking =P
jk nice buy bruh!
11-08-2011, 04:35 PM
Honda-Tech Member
Join Date: Nov 2011
Location: Sunny California
Posts: 6
Re: Struck a Ruck for a deal
---
I have been looking for one they look fun I just dont know enough about them feel free to fill me in just as far as the ride are they worth having and whats the advantage to having one
11-23-2011, 01:47 PM
Re: Struck a Ruck for a deal
---
thats not a bad deal. i bought my 09 in 2010 with 21 miles with a yoshi, ncy extension kit, ncy frame brace, daytona 5wy adjustable rear shock, ncy drop seat and some other goodies as well. i only paid 1700 for it. it was a bad *** deal at the time so i had to jump on it. since then ive added pwjdm straight bars, ncy front brake kit, pwjdm shim kit and a few other things here and there. good luck on the modding and happy ruckin!!!!

oh and another really good forum for rucks is totalruckus.com
Thread
Thread Starter
Forum
Replies
Last Post
Honda Ruckus and Scooters
Honda Ruckus and Scooters
Honda Ruckus and Scooters
Honda Ruckus and Scooters