Potential Ruckus Owner
08-11-2011, 01:16 AM
Potential Ruckus Owner
---
What's up fellas? I'm strongly considering getting a Ruckus. It'll help me stay local and the majority of the stuff I need to do is done locally in my neighborhood. So instead of buying a gas guzzling car I'm thinking about investing into a Ruckus. I just wanted to ask some of the owners a few questions. Spending $3000 on a scooter is a big deal so I wanted to get you guys impressions.

1. How difficult is maintenance?
2. How long do you see the Ruckus being operation?
3. How fast is it?
4. Do you think it's a wise investment?
5. It'll be my soul means of transportation for five months, do you think it's worth it?
08-13-2011, 12:49 PM
Re: Potential Ruckus Owner
---
well ive owend a 04 ruckus for about 4 months now i bought it used not knowing nothing about it maintanece wise and how to work on it...But with the help of all the ruckus fourms like total ruckus and central ruckus they were a great place to look for advice and ideas...From there mine was all stock and only going 37mph sucked, so i got the mod bug now with all the mods Ive reached speeds of 42 to 47 on flats and a couple of 50mph going down a incline...trail and error but it was worth it and plus i did not spend that much money to get there compared to a car and still 90 to 100mpg..
I ride around trip of 20 miles a day to work and put in about 3 dollars a week in gas lol **** pretty soon it will pay for its self...i ride on roads that are 35mph and up to 55mph just keep your eyes open and pay attention....
if you got any more questions just shoot me a pm i will gladly help out i think there well worth the money, iknow next year i will probley get a new one and give my gf my old one so i can have a rider..
good luck
PS i do own a car as well so you might want to get a used ruckus (cheaper) and get a cheap car just incase..
here it is the day i brought it home...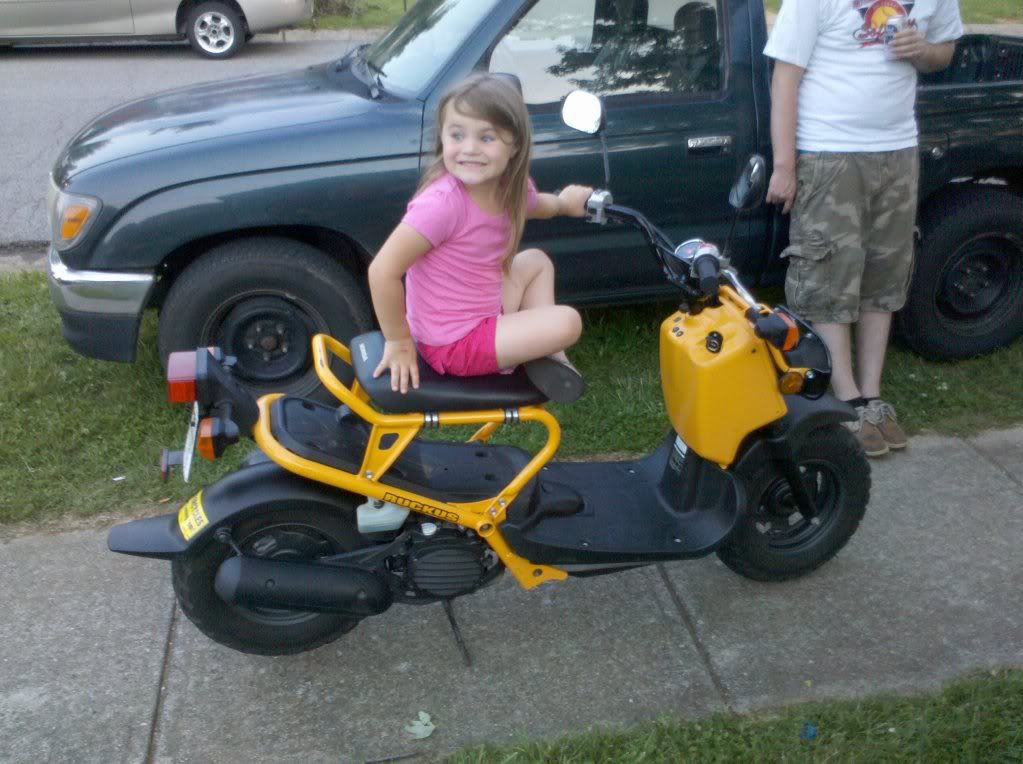 here it is now but i got new street tires now...i stll have more to go this winter i might paint the yellow part black not sure yet so many ideas lol..
08-15-2011, 10:26 AM
Re: Potential Ruckus Owner
---
Thread
Thread Starter
Forum
Replies
Last Post
Honda Ruckus and Scooters
Honda Ruckus and Scooters
General Discussion and Debate