The CR-Z has landed..
02-17-2011, 03:00 AM
B*a*n*n*e*d
Join Date: Sep 2010
Posts: 9
The CR-Z has landed..
---
Well, my work got its first shipment. And if you did not know, they made a very limited amount for the first year. We are only supposed to be getting 3 total for the year!! We got two today. I went to our PDI dispatch lady and requested that she give one to me. So she agreed and I ended up with a white EX with the 6 speed!!! SWEET! The other one was a silver ex-navi with the automatic with paddle shifters that another guy got later on.
A few things I noticed. First, if you have ever driven a Honda hybrid before, you know how the brakes feel like hitting a brick wall. This one, nope. Feels exactly like a normal car does. Also, all of Honda's that are hybrid and stick always seem to just drive like total crap. Not this one. It was so much fun.
Also, they have three driving modes; ECON, Normal, and Sport. I had it in normal a few times in like second at 3k rpm's and hit the sport button and it immediately threw you back in the seat a little, almost like VTEC kicking in on the B series. The entire time, i literally forgot I was driving a hybrid. Definitely sporty and fun, the six speed that is, i did not drive the auto, so I am unsure.
On a side note. If you get ride of the IMA crap, move the battery out of the engine bay, move the ECU to the passenger compartment, get rid of a/c, and the abs modualtor, and move the radiator forward some, there is more than enough room for a K series. A ton of room in the back already on the firewall side.
Anywho, onto a few pics.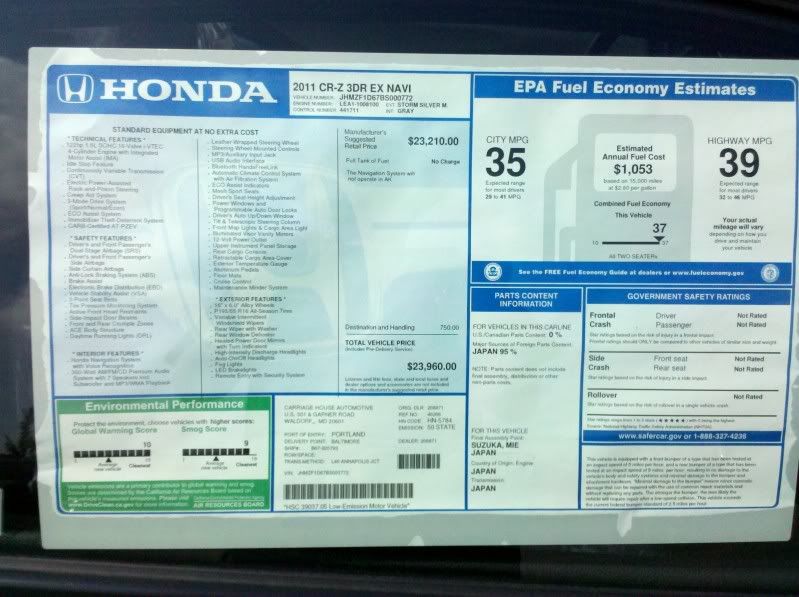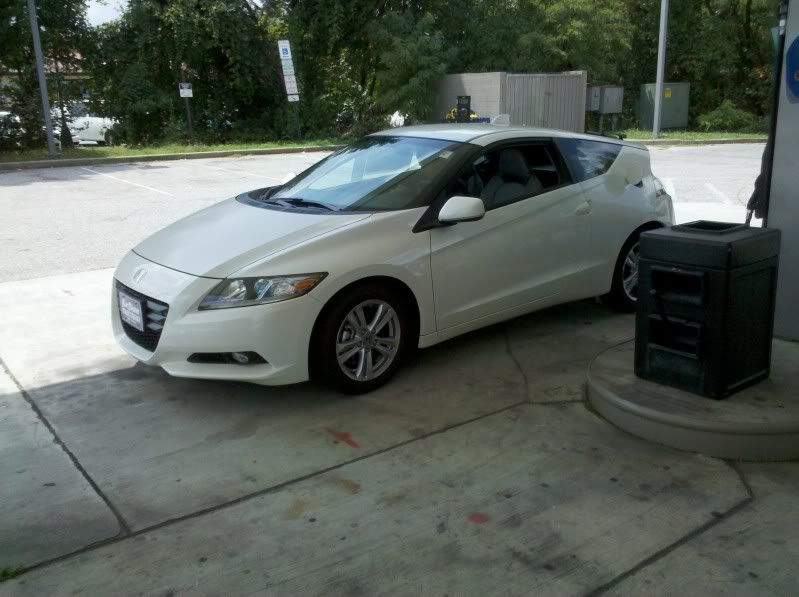 .
02-21-2011, 05:09 AM
Re: The CR-Z has landed..
---
does it feel like it handles like as much crap as they say it does...?

i mean i doubt you took it through the works down the twisties, but you could get some type of a feel for it.
02-21-2011, 05:13 AM
He knows where you live!
Join Date: May 2005
Posts: 12,549
Re: The CR-Z has landed..
---
Something tells me with the dismal 0-60 times it has you didn't get pushed back into your seat like VTEC kicking in, but whatever.

I'm still quite a fan of the exterior and interior - not so much on the motor options. I'll hold off and wait to see if Honda releases a conventional motor.
02-27-2011, 07:36 AM
Honda-Tech Member
Join Date: Oct 2010
Location: Reddit.com/r/randnsfw
Posts: 114
Re: The CR-Z has landed..
---
My dealer has had 6 CRZ's since theyve been released and weve gotten 3 others through Dealer trades. Only one 6 speed. WTF Honda! haha. Definitly hoping for AT LEAST an L15A.... Itll be just like the D series but hopefully a better head...
Thread
Thread Starter
Forum
Replies
Last Post
Honda Accord (1990 - 2002)
Honda Insight & CR-Z Hybrid