Rules, Thread Titles, Car Information, Searching, and Picture Posting
09-08-2012, 07:33 AM
Honda-Tech Member
Join Date: Feb 2008
Posts: 45,259
Rules, Thread Titles, Car Information, Searching, and Picture Posting
---
Rules For This Exclusively Technical forum

Thread topics that belong in the main forum
Seeking solutions to technical problems

Build and Do-It-Yourself (DIY) projects -- require pictures and details describing what was done, how it was done, how much it cost, and what results were

Providing technical information of general interest

Stolen car announcements

-- require theft location and details

Thread topics only allowed in sticky threads at the top
For Sale or Want to Buy ads for car parts -- only permitted in FS/WTB sticky

Questions about the value of cars or car-related

items/jobs -- only permitted in Value sticky

Posting car pictures or videos -- only permitted in Picture and Video sticky



Thread topics that belong in other forums
Forbidden thread and post topics
Bench racing

-- defined as predicting the performance of a car or a race outcome based on specifications

Opinion polls lacking technical merit

Illegal activity

-- including but not limited to street racing, illegal smog inspection, theft, drugs, abandoned car part-outs, and posting links for downloading copyrighted material.
Thread titles

When creating a new thread in this forum, you MUST select an informative title so that members browsing threads can easily understand your tech problem or question without reading the first post. Whenever possible

,

please place simple tech questions directly into your thread title

.

A good title will increase the number and rate of useful responses by letting members know what precise information is needed.

''I need help'', ''need help asap''

, and ''help me please''

are examples of poor thread titles that may delay responses or get your thread closed.

Some examples of good thread titles are

''92 Civic Si: No fuel pump prime or spark after engine swap", "Stock 99 Civic DX - engine won't crank but starts and runs with a push start", and "93 Del Sol has high and fluctuating idle after replacing throttle body".


Car information
For all technical questions, the following information MUST be included in the first post:

vehicle

(year, make, model) and engine (if not stock, year, make, model, OBD type). Other pertinent information includes check engine light (CEL) codes as well as engine modifications, such as a turbo kit tuned at 18 psi or a specific throttle body, large injectors, big cams, etc. This information is absolutely essential because, in many instances, members wishing to help in a thread waste their time by posting detailed replies, only to find out the next day that the topic starter left out CRITICAL information. Please respect members wishing to help by taking the time to list or mention crucial information about your car.

Check the FAQs sticky and use the search function
Please check the FAQs Sticky and search this forum and the site (How To: SEARCH) before posting a new thread to ask a technical question. If you don't find what you need, then please feel free to make a new thread.

Posting pictures in threads

Learn how to post pictures here.


Trial User information

Trial users

may post immediately after retrieving their confirmation email. However, posting for

Trial Users

is restricted to technical forums during the trial period. The trial period ends when you are a member for more than 15 days AND when you make more than 5 posts in the technical forums. Posting in Classifieds or Community forums does not count toward ending the

Trial User

status

. Please allow

1-2 hours

for our software to convert you from Trial User to Registered User status once you have met the time and posting requirements

.


Flaming
Moderators will not tolerate any flaming.

This forum exists to assist members and to learn. If you have nothing constructive to say and have a rude disposition, then just don't post. Let this serve as a warning. We wish this forum to be productive and welcoming to everyone. Members must not be afraid to ask questions here.

Post Reports
If you see something that violates the rules, click the post report icon to report it to a moderator who will correct the issue and make this place better for everyone. Moderator actions taken on your post reports can be viewed by clicking the Quick Links drop-down menu and by selecting "your post reports".


Post Whoring
Do not repeatedly post just "x2", emoticons, just a quote, or single word answers to boost your post count. If we notice a pattern of this, we will address the issue.


Bumping threads without good reason
Bumping threads just to bump or just to increase your post count is forbidden in tech forums.


Polls
Think carefully when making a technical thread with a poll. There are two types of polls: closed and open. A closed poll, where the OP creates the choices, is generally the best option. Open polls, on the other hand, allow voters to make a new choice. Keep in mind that adding ridiculous choices will not be tolerated and that moderators can see who made the choice and who voted for it.


Language Filter
There is a language filter that moderators have no control over. If a word is filtered, deal with it and move on. Intentionally misspelling or formatting a word to circumvent the filter will not be tolerated.

Forum Moderators
To see a list of forum moderators, scroll to the bottom of the forum main page and look at the bottom right. To rapidly contact a moderator, click the post report icon.

Terms of use (TOU)
The TOU can be found here. These forum rules are in addition to the terms of service (TOS).


-----------------------------------------------------------------------
Please click the links below

to learn about these three important topics:
---
Last edited by Former User; 10-04-2012 at

01:57 PM

.
10-01-2012, 11:06 AM
Global Moderator
Re: Rules, Thread Titles, Car Information, Searching, Trial Users, and Picture Postin
---
How to use Honda-tech Search engine: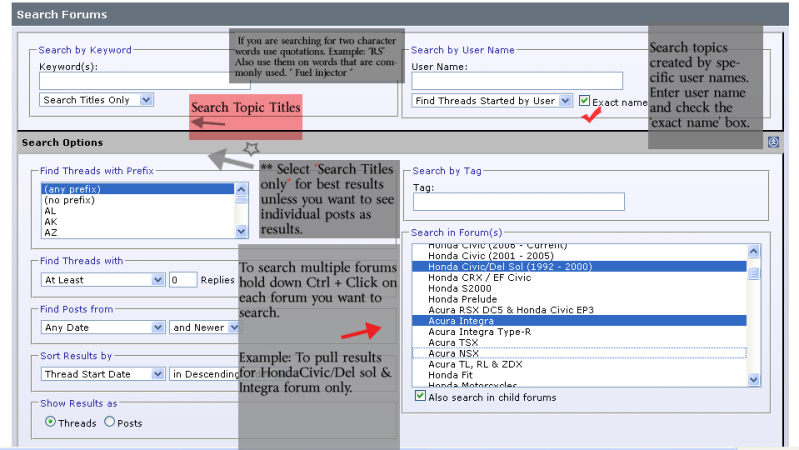 ** Sort Results by relevancy for much older topics, Sort results by ''thread start date'' for most recently created topics **


How to search
* Always use advanced search
* Under search options always sort your search results by relevancy.
* 3 letter words will work / 2 letters words you must use quotations around them or you will find 0 results..words commonly used together use quotations around them also.
* Always try to narrow results as much as possible. If you know which forum the thread your looking for was posted in.. select that forum only
* When searching try to be specific.. phrases typed differently may pull
different
results
* If you have an idea of when the thread that you may be searching for was posted, limit the date range using the option available.
There is a huge database here and a lot of information and threads that have already been covered.. To help cut down on repeated topics always check the [faq] threads stickied at the top of the forums and then
try searching before creating a new topic.
If you have a particular issue with the search engine or results.. Feel free to contact me and I can forward it to Internet brands.
Thread
Thread Starter
Forum
Replies
Last Post
Honda CRX / EF Civic (1988 - 1991)
Southern California (Sales)
All Motor / Naturally Aspirated