Rules, Thread Titles, Car Information, Searching, Trial Users, and Picture Posting
11-26-2011, 08:01 AM
Honda-Tech Member
Join Date: Feb 2008
Posts: 45,259
Rules, Thread Titles, Car Information, Searching, Trial Users, and Picture Posting
---
Don't know how to create a new thread?
Click
here
.
Rules For This Exclusively Technical forum
(Underlined text = clickable link)
Thread topics that belong in the main forum
Asking technical questions
Seeking solutions to technical problems
Build and Do-It-Yourself (DIY) projects -- require pictures and details describing what was done, how it was done, how much it costs, and what results were
Providing technical information of general interest
Stolen car announcements -- require theft location and details
Thread topics only allowed in sticky threads
Questions about the value of cars and car-related

items/jobs -- only permitted in Value sticky
For Sale and Want to Buy --

only permitted in FS/WTB/WTT sticky
Thread topics that belong in other forums
Forbidden thread and post topics
Duplicate threads -- only one thread is allowed per topic.

Bumping old threads without a very good reason

Bench racing

-- defined as predicting the performance of a car or a race outcome based on specifications

Opinion polls lacking technical merit

Illegal activity

-- including but not limited to street racing, illegal smog inspection, theft, drugs, abandoned car part-outs, and posting links for downloading copyrighted material.
Thread titles
When creating a new thread in this forum, you MUST select an informative title so that members browsing threads can easily understand your tech problem or question without reading the first post. Whenever possible, please place simple tech questions directly into your thread title.

A good title will increase the number and rate of useful responses by letting members know what precise information is needed.

''I need help'', ''need help asap''

, and ''help me please''

are examples of poor thread titles that may delay responses or get your thread closed.

Some examples of good thread titles are

''92 Civic Si: No fuel pump prime or spark after engine swap", "Stock 99 Civic DX - engine won't crank but starts and runs with a push start", and "93 Del Sol has high and fluctuating idle after replacing throttle body".

Car information
For all technical questions, the following information MUST be included in the first post: vehicle (year, make, model) and engine (if not stock, year, make, model, OBD type). Other pertinent information includes check engine light (CEL) codes as well as engine modifications, such as a turbo kit tuned at 18 psi or a specific throttle body, large injectors, big cams, etc. This information is absolutely essential because, in many instances, members wishing to help in a thread waste their time by posting detailed replies, only to find out the next day that the topic starter left out CRITICAL information. Please respect members wishing to help by taking the time to list or mention crucial information about your car.

Members Seeking Technical Help -
Read this important message
You have come to a public forum for technical assistance. Regardless of how tech savvy or self entitled you think you are, don't be rude or arrogant with members who offer you advice. Your job is to politely answer all questions directed to you. If you are unable to comply, then don't create a thread and move on. Failure to follow this rule may result in thread closure.
Giving Back to the Forum -
Read this important message
Car technical forums are give and take. Members help you, and in turn, you must post the solution or outcome of your technical problem so that the community can learn from your thread. Threads without solutions or outcomes have little value. If we find that you create threads but fail to post solutions/outcomes, your future threads may be closed until you update your previous threads.
Use
the Search function and
the FAQs sticky
Please

search the site

and

browse the FAQs Sticky and other stickies before posting a new thread to ask a technical question. If you don't find what you need, then please feel free to make a new thread.

Trial User information
Trial users

may post immediately after retrieving their confirmation email. However, posting for

Trial Users

is restricted to technical forums during the trial period. The trial period ends when you are a member for more than 15 days and when you make more than 5 posts in the technical forums. Posting in classifieds or community forums does not count toward ending the

Trial User

status

. Please allow

1-2 hours

for our software to convert you from Trial User to Registered User status once you have met the time and posting requirements

.
Flaming
Moderators will not tolerate any flaming.

This forum exists to assist members and to learn. If you have nothing constructive to say and have a rude disposition, then just don't post. Let this serve as a warning. We wish this forum to be productive and welcoming to everyone. Members must not be afraid to ask questions here.

Post Reports
If you see something that violates the rules, click the

post report icon to report it to a moderator who will correct the issue and make this place better for everyone. Moderator actions taken on your post reports can be viewed by clicking the Quick Links drop-down menu and by selecting "your post reports".



Post Whoring
Do not repeatedly post just "x2", emoticons, just a quote, or single word answers to boost your post count. If we notice a pattern of this, we will address the issue.



Polls
Think carefully when making a technical thread with a poll. There are two types of polls: closed and open. A closed poll, where the OP creates the choices, is generally the best option. Open polls, on the other hand, allow voters to make a new choice. Keep in mind that adding ridiculous choices will not be tolerated and that moderators can see who made the choice and who voted for it.



Language Filter
There is a language filter that moderators have no control over. If a word is filtered, deal with it and move on. Intentionally misspelling or formatting a word to circumvent the filter will not be tolerated.



Forum Moderators
To see a list of forum moderators, scroll to the bottom of the forum main page and look at the bottom right. To contact a moderator, click the

post report icon.

Terms of use (TOU)
The TOU can be found here. These forum rules are in addition to the terms of service (TOS).

----------------------------------------------------------------------------------------------------------------------------------------------------
The three topics below are described in subsequent posts of this thread. Clicking the link will redirect you to this important information.
.
---
Last edited by Former User; 10-09-2016 at

09:05 AM

.
01-31-2012, 04:19 AM
Guide to the common (noob) question: How do I post pictures to the forum?
---
For all of you that are new and dying to post your "build" thread progress ,Here it is, short and sweet.
I copied the bulk of this from another tutorial as it is essentially the same no matter what forum you are using. Over time this might not match how it's actually done on Photobucket as methods, formats and programming change.
If you'd like to add photos to your posts that display as full images (rather than attachments that need to be clicked on to view), the easiest/best way to do it is by using an image hosting account like
Photobucket
or
ImageShack
.
Let's use Photobucket as an example because it's quick and easy.
1. Sign up for a free Photobucket account:
http://register.photobucket.com/

2. Enter in a username, password, email, etc. You will be emailed confirmation.
3. Once in photobucket, you can create a new album if you wish (example: fishing).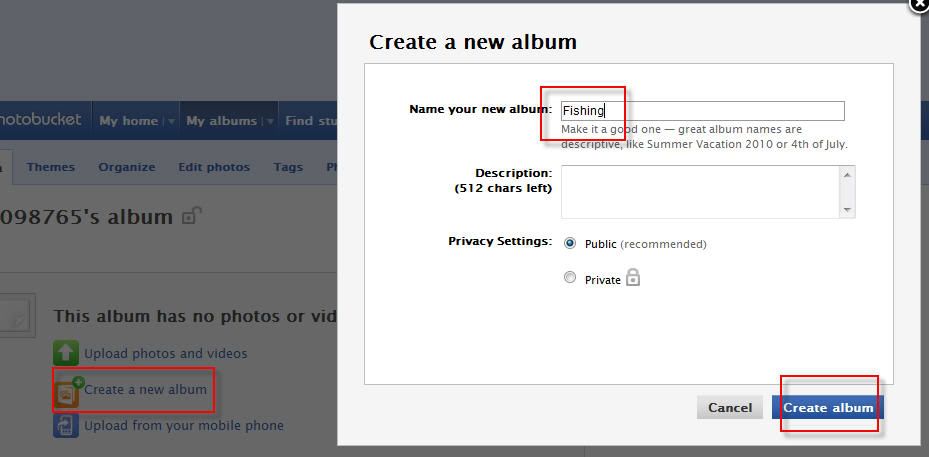 4. Click upload photos or videos.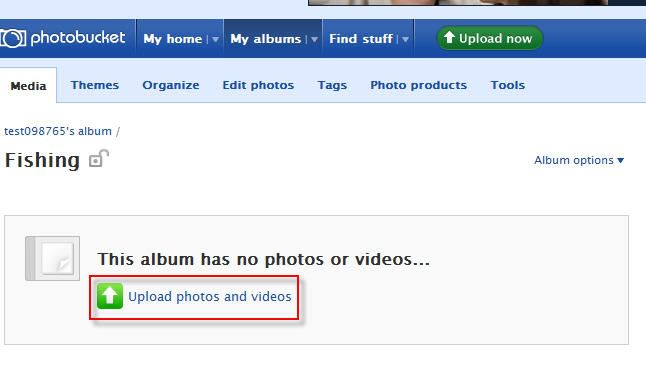 5. Optional step. Since most photos these days are large size,select 640x480 (Large) resolution under "customize your upload options" from the drop down menu on this page. If you don't want to get yelled at for pics that a ginormous, use this religiously.
6. Click Select photos and videos (green box). Browse to location. Hold down CTRL button while clicking to select multiple photos. Click open.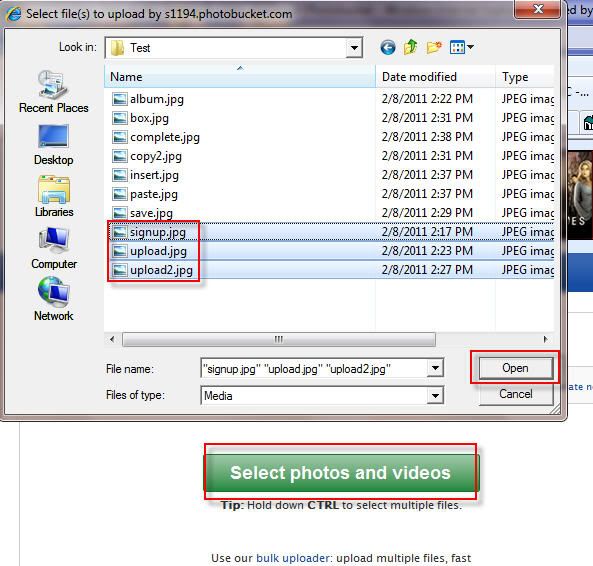 7. You can add a title and description if you wish, or just click Save and Continue.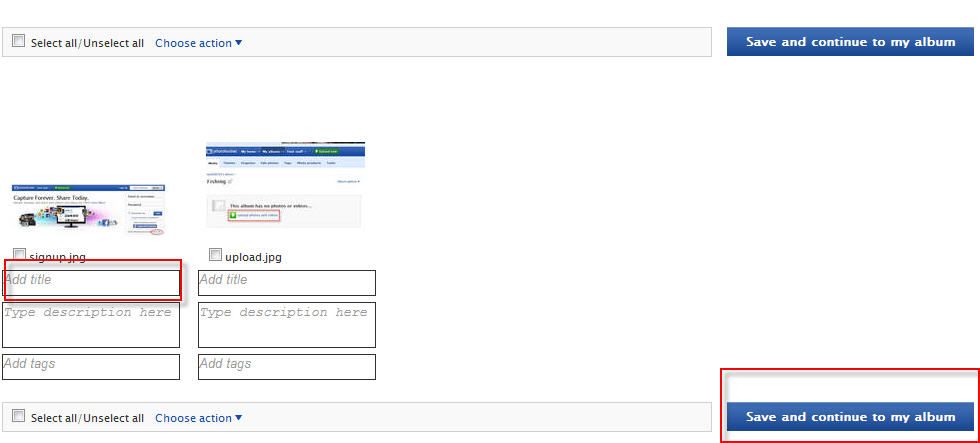 8. When you move you mouse over the photo, a box like this pops up underneath.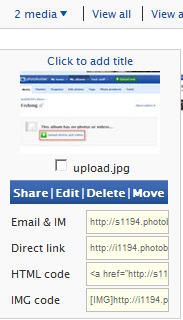 9. You can use the direct link as illustrated but...see the IMG code ? That's what you really want. Move your mouse over either link and copy it. On my computer I just click the field and it copies automatically but you may need to highlight and copy manually (CTRL + C button on computer).
If you used the Direct link code then continue on to step 10.
If you chose the IMG code then jump and look at Step 12 and paste the code so it looks like that.
NOTE!! For all you wanna be web designers,
HTML DOES NOT WORK in a BBCODE based forum that does not allow HTML!!!
It's set up in the backend so that malicious script kiddies cannot insert any foul scripts to hack or crash the forum.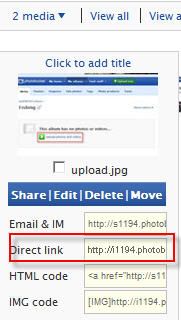 10. Start a new thread or post. Move your mouse over insert image. Click it and paste the URL into the box that pops up. If you don't have access to the IMG button for some reason then get the IMG code from Photobucket instead and paste into the post so it looks like step 12.

11. Or simply type [img][/img] and put your link in between the commands.
12. Then it looks like this.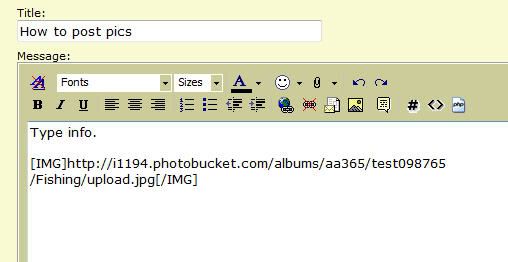 13. Repeat as necessary. This will work on any forum based on the same backend code (most forums out there).
For best results preview your post before submitting it.
To make sure you don't lose any info, keep a blank text document open and periodically paste your draft into it. Forums are known for crashing and taking your unsaved posts with it.
And for the people that refuse or are incapable of actually reading the post here's a Youtube video.
http://www.youtube.com/watch?v=RYxAaFmbrL8
.
---
Last edited by Former User; 06-26-2012 at

06:34 PM

.
03-01-2012, 09:45 AM
Please use the attach image function when attaching images to how to/D.I.Y. articles
---
I'm sure a lot of you have noticed several older D.I.Y. articles in the F.A.Q. with missing pictures. A lot of stuff got lost when we-todd-it-racing went down, and when people deleted content from their image hosting sites. We would like to prevent this in the future, so without further adieu, the H-T image attachment feature explained:


When creating a new post or replying to a thread you'll see in the top toolbar a paperclip, this is the attachment button, click it, it will then allow you to upload pictures directly from your computer to IB's servers. That's it Pics below walk you through the process:
---
Last edited by 94EG8; 09-30-2012 at

10:03 AM

.
10-01-2012, 11:06 AM
Global Moderator
Re: Rules, Thread Titles, Car Information, Searching, Trial Users, and Picture Postin
---
How to use Honda-tech Search engine: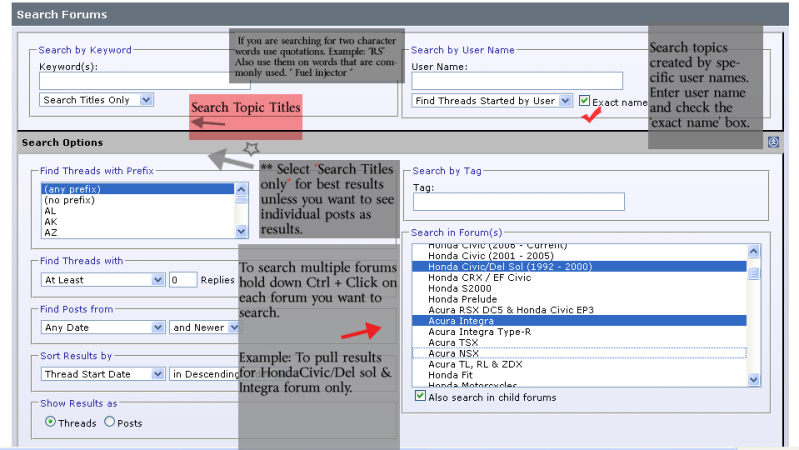 ** Sort Results by relevancy for much older topics, Sort results by ''thread start date'' for most recently created topics **


How to search
* Always use advanced search
* Under search options always sort your search results by relevancy.
* 3 letter words will work / 2 letters words you must use quotations around them or you will find 0 results..words commonly used together use quotations around them also.
* Always try to narrow results as much as possible. If you know which forum the thread your looking for was posted in.. select that forum only
* When searching try to be specific.. phrases typed differently may pull
different
results
* If you have an idea of when the thread that you may be searching for was posted, limit the date range using the option available.
There is a huge database here and a lot of information and threads that have already been covered.. To help cut down on repeated topics always check the [faq] threads stickied at the top of the forums and then
try searching before creating a new topic.
If you have a particular issue with the search engine or results.. Feel free to contact me and I can forward it to Internet brands.
Thread
Thread Starter
Forum
Replies
Last Post
Honda CRX / EF Civic (1988 - 1991)