P2R Thermal Intake Manifold Gasket Testing
08-16-2009, 08:29 PM
Former Vendor
Join Date: Jun 2008
Location: Hallandale, FL, USA
Posts: 214
P2R Thermal Intake Manifold Gasket Testing
---
This test was done on a
2007 Honda Civic Si
.
This was a very simple test to show how P2R Thermal Intake Manifold Gaskets help keep your HP up by keeping the intake manifold temps cooler.
We did 3 back to back pulls without the P2R gasket. We only waited 30 seconds between pulls without turning off the car.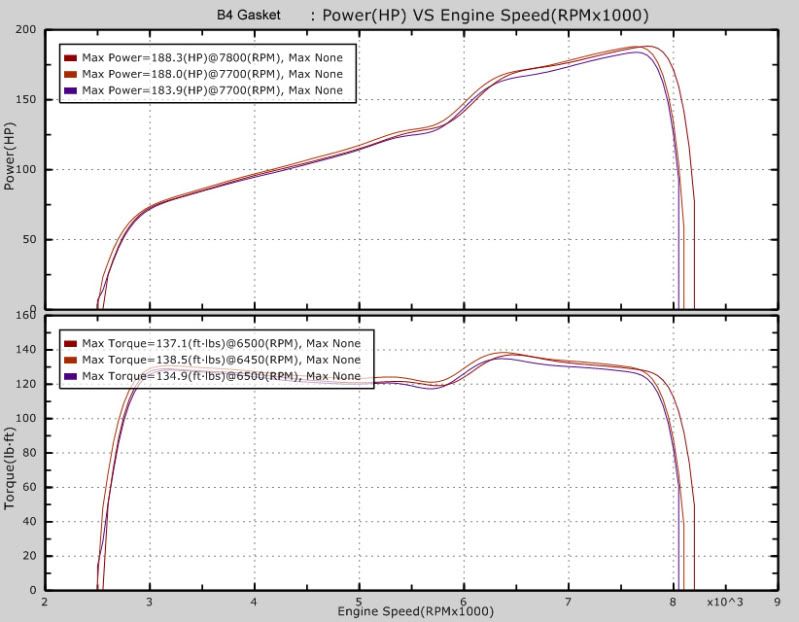 As you can see each pull the HP went down.
We then installed the P2R Power Rev Racing Thermal Intake Manifold Gasket and did the same thing again. 3 back to back pulls with 30 seconds in between and not turning off the car between pulls.
There was a 1 hp gain, and HP stayed
consistent
each pull and didn't go down as it did when the car didn't have the P2R gasket.
This test was done to show how P2R Thermal Gaskets can help make your HP numbers more consistent, which is very important in real life situations. Keeping intake manifold temps down is key when it comes to making HP.
Note: All pulls were done using a dyno feature which is called Snapshot. Snapshot is a feature which allows you to do dyno pulls without hooking up an RPM pickup on the car. This is why you will see that the rpm might be off by 100-200 rpms in some pulls. Because of this the TQ numbers can be off by 1-2 ft lb TQ, however; HP numbers are always correct.
Hope you all enjoy this test, as we did it for you
08-17-2009, 08:10 AM
Re: P2R Thermal Intake Manifold Gasket Testing
---
Great work, good to see that someone actually put it to the test. Normally you see it combined with the TB spacer. Both kida play on the same idea, trying to keep intake temps down.
Thread
Thread Starter
Forum
Replies
Last Post
Engine Management and Tuning
Engine Management and Tuning