Video UP: Evans Tunning True Street Integra 8.98 @ 167mph Personal Best Pass + Crash
11-13-2011, 01:48 PM
Badass Videographer
Video UP: Evans Tunning True Street Integra 8.98 @ 167mph Personal Best Pass + Crash
---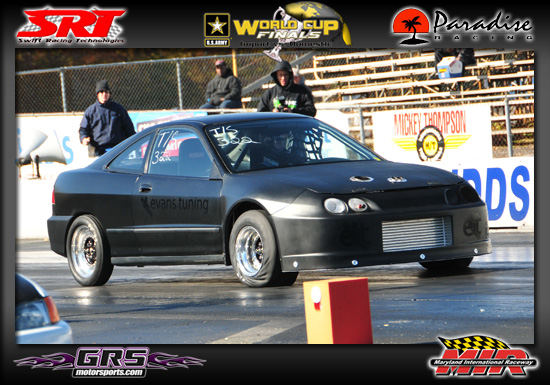 Video Click Link--> http://www.grs-motorsports.net/video...ir/wcf/209.wmv
11-13-2011, 02:01 PM
Honda-Tech Member
Join Date: Dec 2000
Location: Back in the dirty South! ATL
Posts: 20,008
Likes: 0
Received 0 Likes on 0 Posts
Re: Video UP: Evans Tunning True Street Integra 8.98 @ 167mph Personal Best Pass + Cr
---
Wow! Great shots of the crash. As soon as Jeff lifted before even pulling the chute it lifted the rear tires off the ground. That's nuts.
11-13-2011, 04:43 PM
Honda-Tech Member
Join Date: Oct 2002
Location: md, us
Posts: 2,771
Likes: 0
Received 0 Likes on 0 Posts
Re: Video UP: Evans Tunning True Street Integra 8.98 @ 167mph Personal Best Pass + Cr
---
Wow it's even crazier from those views outside of the car. Glad your ok Jeff. Get that new integra done for nextyear. I look foward to doing battle with you guys.
11-13-2011, 04:43 PM
Honda-Tech Member
Join Date: Mar 2008
Location: lowell, mass, usa
Posts: 779
Likes: 0
Received 0 Likes on 0 Posts
Re: Video UP: Evans Tunning True Street Integra 8.98 @ 167mph Personal Best Pass + Cr
---
It looks like he step on the brake hard to stop the car and the car when crazy with those mt tire on low psi . Good luck putting the car back together man
Thread
Thread Starter
Forum
Replies
Last Post