Official NSX Forum FS/WTB/WTT Thread
02-23-2014, 10:13 PM
Honda-Tech Member
Join Date: Jan 2006
Location: "That one guy with that one car" Kennewick WA
Posts: 2,655
Likes: 0
Received 0 Likes on 0 Posts
Re: F/S: 1993 Formula Red / Ivory NSX 5-speed
---
Originally Posted by
SuzukaBlueAP2
1993 Formula Red / Ivory
JH4NA1155PT000179
YEAR & MODEL: 1993 NSX
FULL VIN #:
JH4NA1155PT000179
CURRENT MILEAGE: 69,041
COLOR (EXT/INT): Formula Red / ivory
TRANSMISSION: 5spd
LOCATION OF VEHICLE (CITY/STATE): Pittsburgh, PA
CONTACT VIA (E-mail, PM, phone number, etc.): PM, text at 724.856.0616
PRICE: $26,500 o.b.o.
**reduced the price because I don't have sufficient documentation for the timing belt service.
Clean Title: Yes
Number of owners: I believe I am the 3rd
Clean CarFax: Yes
Accidents: None
Recent work done:
Complete brake fluid flush and replaced with Motul RBF600.
Replace front emblem with new OEM.
Installed Advan RG wheels (these and stock wheels come with the car)
Installed new OEM taillight gaskets.
Installed new carpet in trunk. (was missing when I bought it)
Installed speed bleeders on all calipers
Areas that need attention:
The driver's door speaker and sub woofer aren't working.
Antenna motor clicks a couple times when putting it down. Works fine otherwise.
The rear valve cover gasket seeps a tiny amount of oil. If you drive for an extended period of time, you will smell a slight burnt oil odor when it hits the exhaust.
Other "mods":
K&N drop-in air filter installed
I added the OEM Acura Keyless entry module
Shift **** is from a 1985 Honda Prelude Si (I also have the original to the NSX)
I have owned this NSX for 2 years. Buying it was like fulfilling a childhood dream, however, I must now part with it. I don't have time to keep garage queens. I only put 1,000 miles on this car in the past year. Someone out there deserves to own it and give it more love than I have.
I am also including a complete set of brake rotors and pads for the front and rear with the car for when those need changed.
I also need to include that there is a payoff on the car. So, for any serious buyer I will need to payoff the existing loan to get the title.
http://smg.photobucket.com/user/scre...how/1993%20NSX
This is a good deal.
02-24-2014, 09:10 AM
Honda-Tech Member
Join Date: May 2004
Location: Los Angeles, CA, USA
Posts: 114
Likes: 0
Received 0 Likes on 0 Posts
Re: Official NSX Forum FS/WTB/WTT Thread
---
I am sad to see my wing go, but I bought the wrong one!!
I own a civic, which I track occasionally, so this wing is way too big.
These wings are made-to-order so they have a long wait-time.
I had to wait about 3 months. I am selling it for more than $300 off MSRP. Incredible deal.
This wing would sit on top of the trunk of your C6
Model: APR GTC-500 Universal GT Wing
MSRP: $1575
Current Price: $1100 picked up in socal
Location: Los Angeles
Condition: Still in the box, Brand New
Specs: 70" length, Mounts sit 47" apart, Height: 13.5"
Material: Carbon Fiber airfoils are 10mm "aircraft grade" 6061 billet aluminum pedestals that come in a flat black powder coat finish.
03-11-2014, 01:57 PM
Re: Official NSX Forum FS/WTB/WTT Thread
---
bbs lm multipiece
5x114.3
17x8 offset 35 tires 215-40-17 like new
18x9 offset 35 tires 275-35-18 like new
asking for 2300 wheels + tires pick up in socal
05-13-2014, 04:24 PM
Honda-Tech Member
Join Date: Dec 2009
Posts: 72
Likes: 0
Received 0 Likes on 0 Posts
Re: Official NSX Forum FS/WTB/WTT Thread
---
FS i have a set of work equip mesh 17x8/9.
Looking for 1000 shipped
http://hondamarketplace.com/showthread.php?t=3206932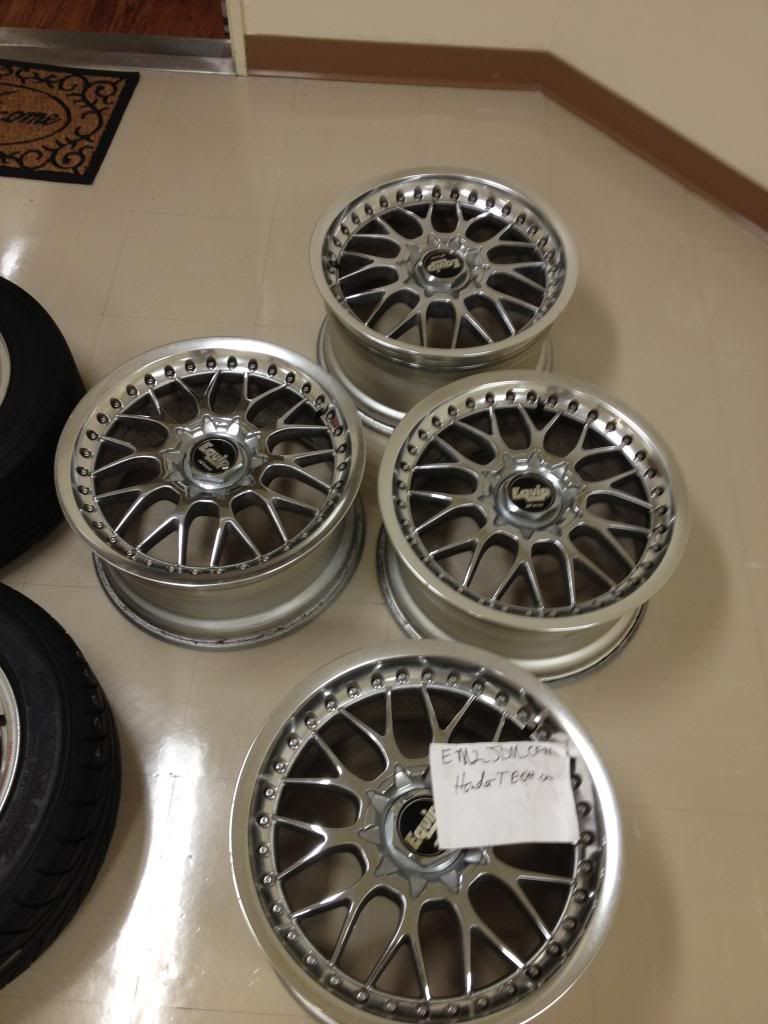 08-24-2014, 11:07 AM
Trial User
Join Date: Aug 2014
Posts: 1
Likes: 0
Received 0 Likes on 0 Posts
1991 Acura nsx for sale
---
Car is in excellent condition, all the service records on hand, no accidents and 3rd owner. Car has 59,900 on it. 1991, interior is 9-10, outside paint is 8-10. Drives like a beast. No problems or defects at all.
Call or text 678-630-6432 for pictures and information. Located in atlanta ga.
College student. I didn't post the pictures bc I didn't see where I could
03-29-2015, 07:26 AM
Honda-Tech Member
Join Date: Jul 2003
Location: Philadelphia, PA, USA
Posts: 370
Likes: 0
Received 0 Likes on 0 Posts
---
Product: Prodrive GC07C 17x7.5 +35mm Offset / 18x9.5 +15mm Offset; Color: British Black
Price $3000 shipped + paypal fees. OBO; entertaining reasonable offer.
Wheels: Prodrive GC07Cs British Black 17x7.5 +35 / 17x8.5 +32 British Silver
Price: $2700 plus shipping and (3%) if paypal is used.
Wheel Size: 17x7.5 +35 / 18x9.5 +36 with rare matching center caps
Color: British Black
Price: $3000 OBO
Condition: couple of scratches, but nothing too bad. I will let the pictures speak for themselves.
Contact: 215-791-0140 or
[email protected]
Location: PA/NJ. I can deliver within 50 miles of Philadelphia or I can meet up with ya.
Pictures:
P.S. These are aggressive for stock bodied NSX, please do your research before buying. I can help with questions, but its different from car to car due to different suspension setups. I've sold these to another member, and it looks great. I have a set of tires if the buyer is interested.
06-15-2015, 08:09 AM
Honda-Tech Member
Join Date: Dec 2012
Location: Great Pacific Northwest
Posts: 100
Likes: 0
Received 0 Likes on 0 Posts
Re: Official NSX Forum FS/WTB/WTT Thread
---
WTB 1997 or newer NSX, must not be ninj'ad out... comptech Supercharger is alright. Red, Black or Silver is fine. Manual. Less than 80,000 Miles. Serious buyer with Cash in hand.
04-24-2016, 02:08 PM
Painting Masterpieces
Join Date: Dec 2001
Location: Tulsa, OK, USA
Posts: 7,943
Likes: 0
Received 0 Likes on 0 Posts
Re: Official NSX Forum FS/WTB/WTT Thread
---
Set of Dali Racing Front and Rear Street/Race Adjustable 22.2 mm / 0.875" Anti-Sway Bars and Cedar Ridge Front and Rear End Links for sale. Easy to adjust and perfect for spirited or track driving. I cleaned them up as much as possible. Sways look close to new. End links are clean and in perfect working order. End links are normally $360+ for new so a significant discount is being applied.
SOLD!
$450 + shipping for everything. PayPal + 3%.
Please reference ZIP 74008 when determining shipping cost.
---
Last edited by Ponyboy; 04-24-2016 at

08:20 PM

.
Thread
Thread Starter
Forum
Replies
Last Post
Road Racing / Autocross & Time Attack
Honda CRX / EF Civic (1988 - 1991)